Dear BKW Staff and Community,
The 2021-22 enacted state budget includes language requiring local education agencies, such as school districts, that receive funding from the Federal Elementary and Secondary School Emergency Relief Fund allocated by the American Rescue Plan Act of 2021 (ARP-ESSER) to post on their website a plan by school year of how these funds will be spent. This is that plan.
New York has been allocated nearly $9 billion in ARP-ESSER funds, with a minimum of $8.09 billion (90 percent) going to local education agencies, including public schools.
In addition, districts must identify programs and services that will continue beyond the availability of these federal funds and how local funds will be used moving forward in order to minimize disruption to core academic and other school programs.
Before posting this plan, districts were required to seek public comment from parents, teachers and other stakeholders and take such comments into account in the development of the plan.
The following plan includes information regarding the Berne-Knox-Westerlo Central School District's total allocation of $1,585,822 in federal stimulus funds through the American Rescue Plan. The ARP-ESSER portion was $801,325. The district had to allocate 20 percent of that amount to address loss of learning, and that amount is $160,265. The remainder is a state reserve grant for a total of $784,497, including $560,351 allocated for learning loss, $112,073 allocated for summer enrichment and $112,073 allocated for after school programming
Our administrative team and district stakeholders have reviewed the plan components, suggested revisions and determined that the plan meets the charge to "prioritize spending on non-recurring expenses." The funds allow for us to:
Safely return students to in-person instruction
Maximize in-person instruction time
Operate schools and meet the needs of students
Purchase educational technology
Address the impacts of the COVID-19 pandemic on students, including the impacts of interrupted instruction and learning loss and the impacts on low-income students, children with disabilities, English Language Learners, and students experiencing homelessness
Implement evidence-based strategies to meet students' social, emotional, mental health, and academic needs
Offer evidence-based summer, after school, and other extended learning and enrichment programs
Support early childhood education
Please note, the plan covers a three-year funded time span through September, 2024. The three-year plan is meant to be fluid and amendments are allowed every six months. As such, we anticipate that amendments will likely occur as we implement programs, review each program's impact on student learning and engagement and revise as necessary.
These funds are separate and distinct from the Coronavirus Response and Relief Supplemental Appropriations Act (CRRSA) total allocation of $730,928.
If you have any questions about the ARP-ESSER funding plan, please contact me at timothy.mundell@bwkschools.org or by phone at (518) 872-1293.
Sincerely,
Dr. Timothy Mundell
BKW Superintendent of Schools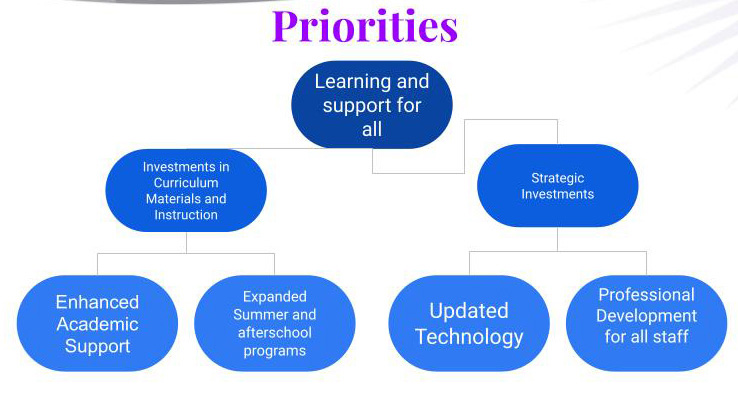 All programs listed here are to address loss of instruction during the COVID-19 pandemic, as well as new enrichment opportunities and advancement of existing programs that were slowed due to the pandemic, will be funded for each of the next three years with federal stimulus funding.
Safely returning students to in-person instruction
Plan Summary
Our plan includes needs for the safe return to school for all students through the following non-recurring expenditures:
Air filtration system improvements – univent replacement at the Secondary School
Masonry work at the Elementary School
New bus routing software
Playground and basketball court improvements
PPE supplies for ongoing mitigation of the transmission of the virus
Sanitation products and labor for completing nightly cleaning and maintenance
The health and safety of students, staff and their families remain the district's top priorities for all in-person instruction and school-based activities. To prevent and mitigate virus transmission and promote a healthy learning environment, the district will follow recommendations and guidance from the New York State Department of Health (NYSDOH), New York State Education Department (NYSED), Albany County Health Department, and the Centers for Disease Control and Prevention (CDC) regarding:
Cleaning and disinfection
Personal protective equipment
Health screening protocols
Safely transporting students
Food service and meals
Social Distancing
Student cohorts and schedules
Operating schools and meeting the needs of students
Plan Summary
Increasing Internet accessibility and connectivity for students where needed
Increase the number of meal opportunities for all students and related services
Purchase of educational technology
Plan Summary
Our plan includes needs in the area of educational technology:
Chromebooks for enhanced instruction and to replace outdated units
Technology maintenance and upgrades
Increased internet hotspots where needed for online instruction
New software programs and platforms to enhance existing learning
Addressing the impact of the COVID-19 pandemic on all students, including low-income students, students with disabilities and students experiencing homelessness by offering evidence-based summer, afterschool, and other extended learning and enrichment programs
Plan Summary
Elementary School summer Academic Intervention Services (AIS) and extended learning opportunities
Secondary School summer remediation programs
Elementary Afterschool program
Evidence-based assessment and intervention services
Pupil Personnel Services support to meet students' social/emotional needs
CTE career programming
Implementing evidence-based strategies to meet students' social, emotional, mental health and academic needs
Plan Summary
Addition of a College and Career Readiness Coordinator to help create career pathways for grade 5-12 students after high school.
Addition of a new teacher in the Technology Education Department. This position will work on redesigning grade 5-8 Technology Education instruction to focus on gaming, coding, and robotics.
Additional Social Emotional learning opportunities and support as some students transition back to a traditional in-person model
Offering evidence-based summer, afterschool, and other extended learning and enrichment programs
Plan Summary
Elementary School summer Academic Intervention Services (AIS) and extended learning opportunities
Secondary School summer remediation programs
Elementary Afterschool Program
Elementary School STEAM Camp
Elementary School Music, Movement/Dance program
Elementary and Secondary School CCR Pathway- personnel, plan, action
Middle School program redesign- Technology, curriculum, etc.
Research skills and internship experiences
Digital portfolio
Integrated programming
Focus on specialized programs – curriculum
Professional development/new curriculum development
Supporting early childhood education
Plan Summary
Academic Intervention Services at the elementary level
Hands-on materials and manipulatives
Professional development targeted to enhance early literacy and play based learning
ARP- ESSER documents