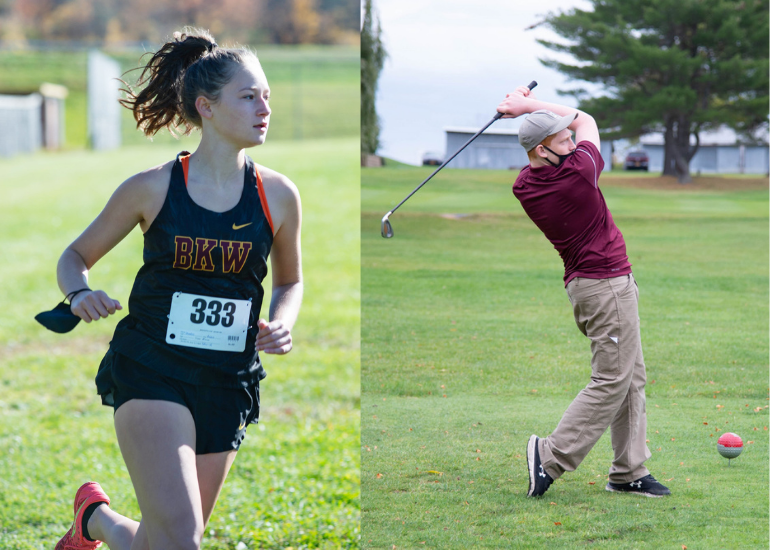 Athletics provide an opportunity to develop qualities of sportsmanship, citizenship, and personal discipline in addition to physical athletic skills. BKW student athletes are expected to represent themselves, their school and community in a positive and respectful manner.
Participation in the BKW athletic program is a privilege, not a right. Regulations are in effect 24 hours a day, seven days a week. BKW is proud of the successful athletic program it maintains. The high standard of conduct to which we hold our athletes helps us to uphold this positive representation.
Our athletic code addresses attendance, academic eligibility, alcohol, tobacco and drugs, and citizenship and sportsmanship, among other factors. Code violations can result in discipline ranging from game suspensions to removal from the team.
All current athletes are given an athletic handbook. Extra copies of this document are available in the Secondary School office.
BKW/WAC announce winter sports opportunities for students
BKW Varsity Girls' and Boys' Bowling will begin practice Dec. 14. There will not be a Modified Bowling team this year due to bowling alley availability and COVID-19 restrictions. Interested athletes should sign up by clicking here.
You must have a valid physical on file with the school nurse to begin practice. School physicals will be hold on Dec. 8 at noon. Please sign up with the school nurse – Alicia.lounsbury@bkwschools.org. ALL ATHLETES WILL NEED A VALID PHYSICAL ON FILE TO PARTICIPATE.
The Western Athletic Conference has voted to not to field "high-risk" Modified sports (Basketball, Cheer and Wrestling) this season due to the pandemic.
"High-risk" JV and Varsity sports practice (Basketball, Cheer and Wrestling) will begin on Jan. 4 pending NYS approval. If approved, there will be a league only schedule played without fans through Feb. 28. In addition, cheerleaders will not be cheering for basketball games. Cheer will take place only if there are competitions within the WAC.
BKW will not be fielding an Indoor Track team this year. Section 2 is not able to provide a schedule due to the lack of facilities that host meets. College venues will not be opening their doors because of COVID-19.
Sports Teams
Fall Sports 
Cross Country (boys and girls)
Soccer (boys and girls)
Golf (boys and girls)
Volleyball (girls)
 Helderberg Valley Swimming (girls; with Duanesburg)
 Helderberg Valley Football (boys; with Duanesburg)
Winter Sports (Please note changes for 2020-21 above)
Basketball (boys and girls)
Wrestling (boys and girls)
Bowling (boys and girls)
Indoor Track (boys and girls)
Spring Sports
Varsity Boys Baseball
Modified Baseball (boys and girls)
Modified Track
Varsity Track and Field