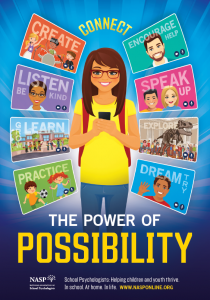 National School Psychology Week is a time to highlight the important work school psychologists and other educators do to help all students thrive. This year's theme is "The Power of Possibility," which conveys hope, growth, resilience and renewal.
Possibility suggests that even something as small as a seed can grow into something magnificent. The word "power" implies that things can and will happen. When we focus on what is possible, we have hope that students will grow, thrive and bloom and will be empowered to take the action steps necessary to do so.
We help empower children to grow in areas of skill such as social skills, empathy, and compassion for others, as well as individual or intrapersonal skills such as problem solving, goal setting, and study skills. The concept that we continue to grow and develop as people and with our skills is central to our theme, as is the idea that with help, we can develop resilience beyond stressful circumstances.
School psychologists are particularly skilled at assisting students and staff in seeing possibilities and developing positive change to thrive in school and life. Focusing on these possibilities can help us set goals, identify action steps, communicate needs, and engage in discussions to help create the connections necessary for students to develop critical academic and social emotional skills.
Your school psychologists here at Berne-Knox-Westerlo Central School District are Dr. Katrina Emmerich (PreK-5) and Emily Wylong (grades 6-12).
School psychologists are uniquely qualified members of school teams that support students' ability to learn and teachers' ability to teach. They apply expertise in mental health, learning, and behavior, to help children and youth succeed academically, socially, behaviorally, and emotionally. School psychologists partner with families, teachers, school administrators, and other professionals to create safe, healthy, and supportive learning environments that strengthen connections between home, school, and the community. For more information please access the links below: