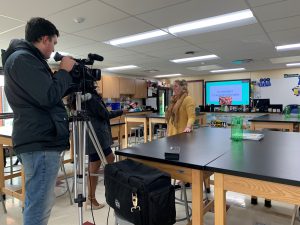 Each year, the area's local NBC affiliate, NewsChannel 13, receives submissions from its viewership for its Top Teacher recognition series. This month, BKW Agriscience Teacher & FFA Advisor Michaela Kehrer has been selected as a 'Top Teacher' as part of the news channel's program to highlight the impactful work being accomplished in today's classroom. The yearly program honors 13 teachers and airs their impactful stories during an evening broadcast. Ms. Kehrer's story can be viewed here.
"It's an honor to be nominated for this recognition.  The best part of my job is to help students find their passions and develop connections for future career opportunities through Career & Technical Education and agricultural education." said BKW Agriscience Teacher & FFA Advisor Michaela Kehrer "I feel fortunate to work with incredible students in a supportive community, while sharing the importance of agriculture in everyday life."
During the course of the school year, Mrs. Kehrer and her students gain an understanding of the next generation of farming techniques, while charting ways to evolve agriculture for tomorrow's communities.  
"We are incredibly fortunate to have Mrs. Kehrer on our staff, and we continue to be amazed at her ability to engage her students in today's classroom," said BKW Secondary School Principal Ms. Kane. "This recognition is a testament to the work and development of our agriculture program that she continues to pursue each year with our students."
Kehrer is currently in her sixth year teaching in the district.