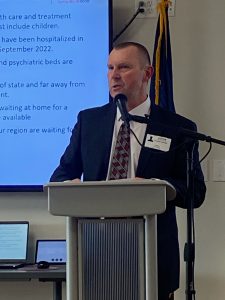 On Friday, January 28, Superintendent of Schools Dr. Mundell, along with superintendents from 24 BOCES component districts, met with the Capital Region NYS legislators to discuss priorities for school communities and to call attention to those initiatives during the 2023 legislative session. As part of that strategic outreach, regional superintendents are working to highlight critical community-based initiatives to stay top-of-mind of statewide elected officials. 
For the 2023 legislative session, the Capital Region BOCES Superintendents' Legislative Committee, which is chaired by Dr. Mundell, will pursue conversations surrounding the following topics:
Fully fund Foundation Aid and expense-based aids

Streamline funding for universal prekindergarten programs

Supporting access to community mental health services

Obstacles in implementing last year's electric bus mandate by 2027
To view a comprehensive breakdown of what was reviewed, click here.
Why is this important?
The Capital Region BOCES Superintendents' Legislative Committee is working to keep our communities involved, included, and informed of current issues facing school districts in our region. As the legislative session progresses, we will continue to share news and information that applies to our BKW community, and its overall advocacy impact on our students and school buildings.