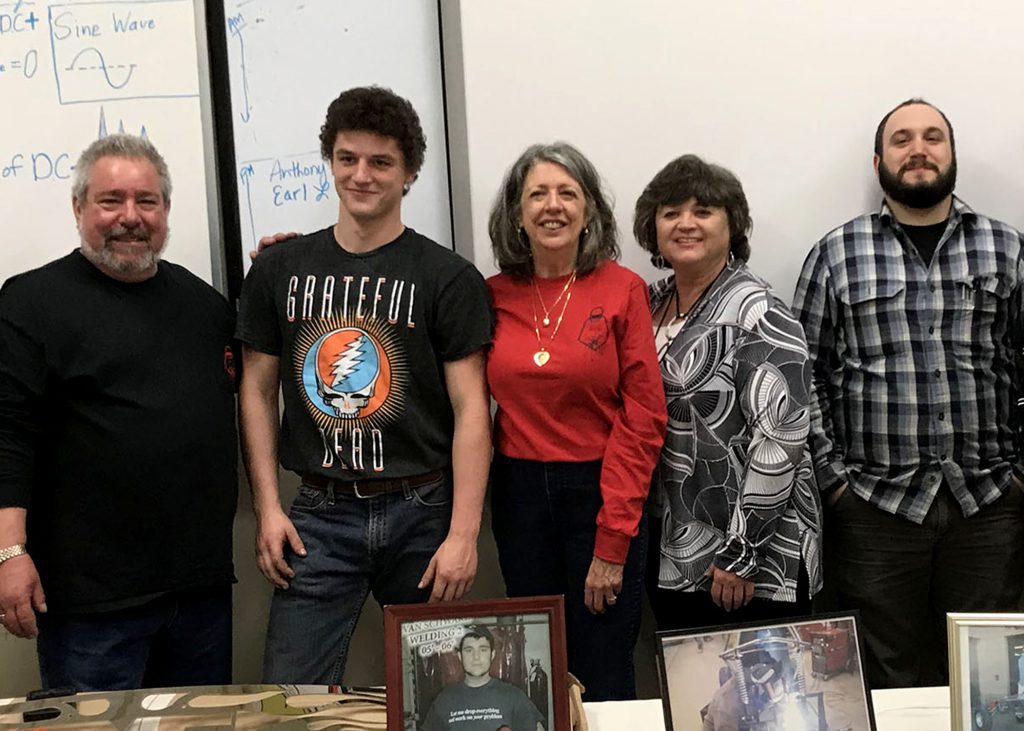 A Capital Region BOCES Career and Technical School (CTE) student who is an aspiring iron worker is the winner of the 2018 Evan M. Schwarz Helping Hand Memorial Scholarship.
The $500 award was presented to CTE student Jake Wideman, a senior from Berne-Knox-Westerlo, by the Schwarz family, teacher Don Mattoon and CTE administrators during a May 22, 2018 ceremony in the CTE welding classroom.
Wideman was honored for his dedication and commitment to the art and profession of welding.
Wideman is scheduled for a second interview with the iron workers union and hopes to start their apprenticeship program upon graduation from CTE and BKW in June.
"I am very excited to receive this scholarship," said Wideman who plans to use the scholarship to purchase new welding leathers and other equipment.
"Welding is my passion and I look forward to working with the Iron Workers Local 12 and using the skills I have learned at BOCES. I feel very well prepared in terms of all of the forms of welding and I am ready to learn all of the other things iron workers do," he said.
The Evan M. Schwarz award was established in 2011 to honor Evan Schwarz, who studied welding at CTE while a Burnt Hills-Ballston Lake High School junior and senior, earned straight A's and has been described by his former teacher Mike Todd as "highly motivated, artistic and caring — just the type of student you'd want to have in your classroom."
Besides learning the formal principles and industry standards of welding, Evan was creative and liked to design and construct attractive and functional pieces. He earned professional certifications in pipe welding, shielded metal arc welding (SMAW), flux-cored arc welding (FCAW)/plate welding, gas metal arc welding (GMAW) and gas tungsten arc welding (GTAW) equipment set-up and operation.
After graduation in 2006, Evan worked at the former Super Steel plant in Schenectady and earned membership in the ironworkers union. 
The presentation on May 22 was especially important for John and Donna-Marie Schwarz as the date would have marked Evan Schwarz's 30th birthday.
The Schwarz family awards the scholarship twice a year at CTE, honoring students who excel in class.