"You cannot dream of becoming something you do not know about. You have to learn to dream big. Education exposes you to what the world has to offer, to the possibilities open to you." — Associate Justice of the Supreme Court of the United States Sonia Sotomayor.
During the remainder of the 2022-23 school year, we will highlight several graduating seniors to learn more about their futures and perspectives and how they will spend their time moving forward as proud BKW graduates.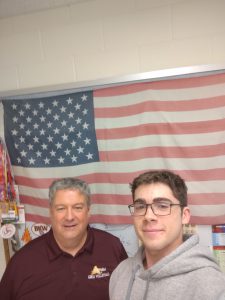 Today, we introduce you to BKW senior Jason Basle. The quote above from Justice Sotomayor perfectly sums up Mr. Basle. Mr. Basle has found his niche at Berne-Knox-Westerlo by exploring options. Basale is a current service member of the New York State National Guard and will attend Siena College in the fall. As part of his commitment, he will also participate in drill instruction and training with the New York State National Guard. Mr. Basle is interested in a pathway to a law degree through a program at Siena College that will allow him to attend Albany Law School upon graduation.
He has been active in BKW athletics, extracurricular events, and the school play. Mr. Basle has taken full advantage of all the offerings at BKW. Today, we let him share his story in his own words with his very own Q&A.
At BKW, what has been your favorite memory?
For me, this is a hard choice and I have experienced a lot of interesting and funny things over the past few years, but my fondest memories come from my time playing on the Helderberg-Valley-Football team. From practice shenanigans to stressful game days, wins, and losses, we stuck together as a team. I am glad I decided to participate during my junior and senior years.
What are you looking forward to after high school?
Immediately after high school? A new routine. My time in high school has been great, but it will be fulfilling to wake up every morning pursuing my own goals. 
How did you come to your decision-making process for your next pathway? Did anyone at BKW mentor you in your decision?
I always wanted to know how the system worked, how these overarching government systems operate, and how we can make it better. I realized the key to this discovery starts with the people around you. It is impossible to understand a system if you do not understand its moving parts. So no, unfortunately, I cannot say anyone 'mentored' me, but I can share that my peers and guardians shaped my perception of my goal.
Finally, where do you see yourself in ten years?
In ten years, I will graduate from Siena College, finish at Albany Law School, and continue my part-time service in the Army National Guard. That is if everything goes to plan. Life has many twists and turns but having a modicum of resolve can help you go the distance.