The FFA makes a positive difference in the lives of students by developing their potential for premier leadership, personal growth, and career success through agriculture education.
BKW students in grades 9-12 may become Sr. FFA chapter members, while students in 6-8 may become Jr. FFA chapter members. At BKW, AgriSTEAM – Agriculture, Science, Technology, Engineering, Art and Math – is part of education for students in all grades. The BKW community has a long, strong and proud agricultural history.
FFA members focus on learning, leading, serving and personal development through hands-on activities and chapter events at school, in the community and with fellow FFA members from near and far.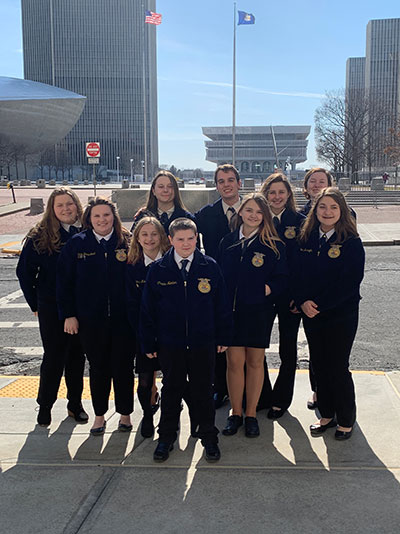 FFA News
Mackenzie Lawrence and Zoey Lounsbury excel at FFA competition, qualify for next level
"Tales of the Dairy Godmother" and more planned for Agricultural Literacy Week, March 15-19
A Crowd Favorite will help Jody
A capital experience for FFA at Farm Bureau event
FFA: Doing to Learn and Living to Serve
Looking to volunteer?
We are always looking for parent volunteers and new ideas! If you would like to volunteer, please contact Michaela Kehrer or Sarah McArdle
About FFA, from FFA
"FFA is a dynamic youth organization that changes lives and prepares members for premier leadership, personal growth and career success through agricultural education.
FFA develops members' potential and helps them discover their talent through hands-on experiences, which give members the tools to achieve real-world success.
Members are future chemists, veterinarians, government officials, entrepreneurs, bankers, international business leaders, teachers and premier professionals in many career fields.
FFA is an intracurricular student organization for those interested in agriculture and leadership. It is one of the three components of agricultural education.
The official name of the organization is the National FFA Organization. The letters "FFA" stand for Future Farmers of America. These letters are a part of our history and our heritage that will never change. For more information, visit https://www.ffa.org/agricultural-education/ "