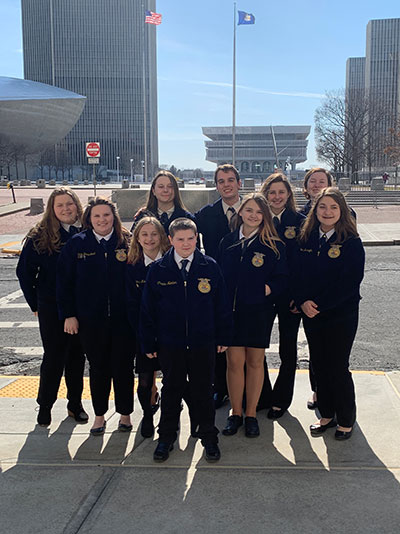 It was a capital experience with agricultural leaders and producers when 10 members of BKW's FFA chapter attended the Taste of New York Farm Bureau event in Albany on March 2. 
Prior to the event, the students had the opportunity to meet with New York State Deputy Secretary of Food and Agriculture Patrick Hooker.  Hooker spoke about his role working to ensure that New Yorkers have access to safe and affordable food.  He also spoke about his experiences in the FFA as the New York State FFA President. 
The students and their advisors then had an opportunity to peek into the state Senate chamber in the Capitol before attending a the debriefing hosted by New York Farm Bureau. 
At the meeting, NYS Commissioner of Agriculture Richard Ball, Assembly Committee on Agriculture Chair Donna Lupardo, and a representative from Senate Committee on Agriculture Chair Jen Metzger's office addressed the audience of 150 Farm Bureau members from across the state. 
They addressed labor and land issues (including soil quality) related to the industry and legislation being voted upon that day  in the Senate.
The three members of the panel encouraged the audience to share with legislators their stories and concerns; they also stated that visiting Albany once a year is not enough, and that the public needs to reach out and connect more to the legislators.
The main event of the evening was the Farm Bureau's Annual Taste of New York. Represented at this event were more than 200 vendors and associations from the agriculture and food industry, including: maple producers, apple producers, dairy product producers (such as Stewarts, Intense Milk, cheese makers from across the state, Chobani, etc.) and many more. 
The BKW students interacted with legislators and their staff members, Farm Bureau members and producers, handing out samples of beef jerky and beef sticks while sharing their experiences of the Agriculture and FFA program at BKW. 
They were joined by five FFA members and their advisor from the Northern Adirondack FFA Chapter.    
For more photos from the event, visit the BKW Facebook page.