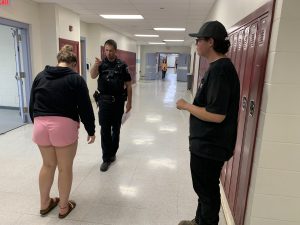 Last week, Albany County Sheriff's Deputy Chris Hughes spoke with members of the senior class about the dangers of impaired driving. 
The purpose of the discussion was to highlight prevention. Prevention starts with raising awareness and educating students about the dangers of driving while intoxicated or impaired by drugs. Deputy Hughes provided comprehensive information about the effects of alcohol/drugs on the ability to drive, the legal consequences of DWI, and the available alternatives to driving under the influence.
In addition, students were shown what roadside tests are utilized when a motorist is suspected of driving under the influence. Students also performed the roadside tests on their peers.