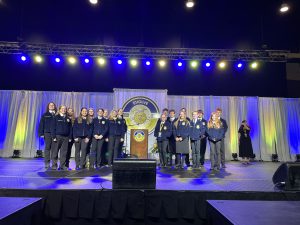 During the extended weekend of May 18th through May 21st, BKW sent their talented FFA group of students to the 98th New York State FFA Convention in Buffalo, N.Y. Each year, students from across New York state gather to compete, share ideas and build relationships surrounding FFA topics. This year was no different, but the BKW FFA team brought home some awards during this year's convention.
A special congratulations go out to the BKW students who were officially recognized for their hard work and commitment at this year's event. They are as follows:
The Agriculture Mechanics Team placed third in the state. The team included River Townsend (the second-place individual overall in the contest), Aaron Carr, Brendon Chrysler, and Reilly Swain.
Mackenzie Lawrence placed second in both the Discussion Meet AND the Agriculture Education Career Development events!
BKW senior Aaron Carr placed sixth, as an individual, in the Farm Business Management CDE.
The Jr. FFA Quiz Bowl Team of Apollo Slingerland, Henry Gumpper, Lily & Jena Sisson placed fourth in the state!
Jena Sisson and Paisley Bunt received NYS FFA Jacket Awards.
Karleigh Kehrer received an NYS FFA Supervised Agriculture Education Grant.
– And last, but certainly not least: Hunter Smith, Mackenzie Lawrence, Lucy Rappaport & River Townsend were 4 members out of the 142 NYS FFA members to receive their Empire Degree, the highest honor an NYS FFA member can receive.  
Way to represent your school community, BKW FFA – we are SO proud of you all!