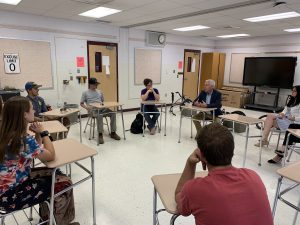 On Friday, May 26, Dr. Mundell, and district administrators, hosted Dr. Edward Placke as part of a New York State Education Department Blue Ribbon Commission on Graduation Measures visit to the BKW campus. The purpose of the meeting was to review how the district is involving its students with an engaging curriculum, reshaping a new pathway for graduation requirements while providing a hands-on Career and Technical Education (CTE) review of our elementary and secondary school campus.
As part of the visit, Dr. Placke was able to visit classrooms and workspaces, conduct group discussions with parents, students, and faculty, and learn first-hand about the departments where students and teachers are reshaping the mold of what school curriculum looks like for years to come. Dr. Placke visited the district's elementary reading and math classes, the esports classroom, toured the technology wing, and viewed projects ranging from students building a new outdoor learning space next to the high tunnel and rebuilding a Corvette, along with additional recreational vehicles, to a classroom highlighting the building of BMX bicycles and how science is incorporated into their construction.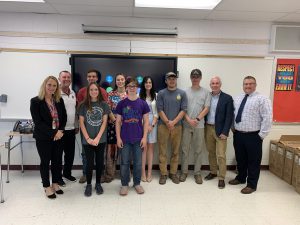 "At BKW, we are incredibly fortunate to have a forward-thinking mindset when it comes to building a program that fits our community's needs," said Superintendent of Schools Dr. Mundell. "Our work over the years, in coordination with our Board of Education, has fostered a campus that is creating opportunities for our students to grow while building the key components to ensure our students are prepared for tomorrow."
Interested in learning more about the New York State Education Department Blue Ribbon Commission and its role in the future of graduation requirements in New York state? Click here for additional details.