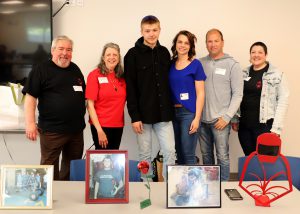 Recently, BKW senior and Capital Region BOCES Career & Technical Education student Clay Smith was presented with the Evan M. Schwarz Helping Hand Memorial Scholarship. The $500 award was presented to the Berne-Knox-Westerlo High School senior by the Schwarz family, teacher Don Mattoon and Career & Technical Education Center administrators during a May 22, 2023, ceremony at the Career & Technical Education Center – Albany Campus.
Smith started his own welding business, Smith Fabrication in East Berne, earlier this year and plans to build that operation after graduation. "I do everything. Right now, I mostly do repair welding, but I want to get into structural work," he said.
"Welding is my passion," Smith added. "I have always found it interesting that someone could build or create anything from metal and it will be as strong, or stronger, than when you started with the base materials" 
The Evan M. Schwarz award was established in 2011 to honor Evan Schwarz, who studied welding at Capital Region BOCES while a Burnt Hills-Ballston Lake High School junior and senior, earned straight A's and has been described by his former teacher Mike Todd as "highly motivated, artistic and caring — just the type of student you'd want to have in your classroom." After graduation in 2006, Evan worked at the former Super Steel plant in Schenectady and earned membership in the ironworkers union.  
Evan Schwarz's parents John and Donna Marie Schwarz, along with his sister Megan Schwarz, present the award twice annually.
"We let the teachers and the students' peers make the selection. Every year they pick a wonderful selection, and this year is no exception," said John Schwarz.
School Counselor Cosimo Tangorra said Smith was honored as a "great example of success for future CTE students, as well as his peers." 
Smith's interest in welding was strengthened through work-based learning experiences arranged by BOCES at two area operations – Finke Equipment in Selkirk and Govel Welding in Albany.
"Both of these places have helped me learn tremendously. Interning at these places inspired me to start my own welding business and work even harder," Smith said.
The BKW student added that BOCES—specifically the hands-on learning aspect of it—has allowed him to perform well academically.
"When I came to BOCES, my grades went from barely passing to high honors because I was more interested in learning everything we were doing," he said.