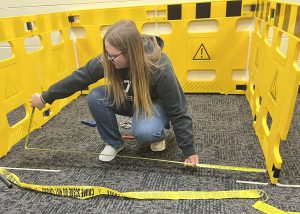 Recently, Berne-Knox-Westerlo  High School senior Kaylee Duncan was taking measurements of a "crime scene" on the Capital Region BOCES Career & Technical Education enter – Schoharie Campus. Duncan, an aspiring defense attorney, is in her second year of the Criminal Justice program at Capital Region BOCES, which prepares students for careers in law – whether those careers are in law enforcement, security, forensic sciences or as an attorney.
The senior said she is enlisting in the National Guard upon graduation in June and plans to use that career to pay for college and law school. Duncan credits BOCES with providing her an excellent education.
"Attending BOCES has given me so many hands-on experiences I can't even begin to count them and has prepared me well for the real world," she said. Working with partners in law enforcement, students learn about the history, theory, practices, and recent developments in the field of criminal justice, as well as practice the skills necessary for those careers.
For more information on career and technical school programs, go to https://www.capitalregionboces.org/career-technical-education/courses-programs/