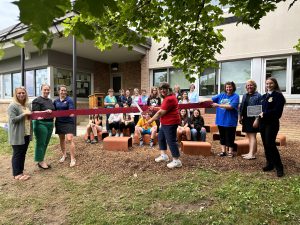 Who says that learning can't be fun and engaging… and outdoors? At BKW, we're bringing the elementary classroom experience outside! Recently, the BKW buildings and grounds crew, led by Keith Domermuth, worked with the district's Floral Design & Landscaping students and FFA & Ag Pal students to introduce and build an outdoor learning library on the elementary campus.

The outdoor class space was recently dedicated to retired BKW Elementary School teacher Mrs. Tambasco. She is well-known throughout the school community for her commitment to introducing and strengthening reading opportunities for children.
"At BKW, we work to utilize our school campus to think outside the box to generate interest in learning while increasing students' ability to explore classroom activities," said BKW Elementary Principal Mrs. Landry. "After some thoughtful planning, we are able to provide a beautiful setting for our elementary students to learn and grow."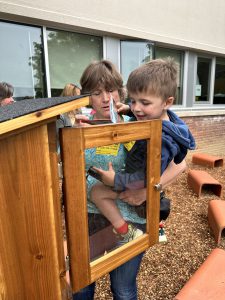 The newly constructed outdoor space features small benches and a Little Free Library and is supplied with hardcover agriculture-themed children's books. The goal of the space is to deliver an interactive experience for our youngest learners. This project will feature a hybrid learning space centering on reading and instruction mixed with agricultural topics and curriculum.

The outdoor classroom space was made possible by a grant from New York Agriculture in the Classroom for $1,200. Established in 1985, New York Agriculture in the Classroom (NYAITC) is a partnership of Cornell University, the NYS Department of Agriculture and Markets, the NYS Education Department, Cornell Cooperative Extension, and the New York Farm Bureau.
The space is currently being used by students and is a big hit on campus!