As we approach our commencement on Saturday, June 24, the district has worked to share the great stories and recognition that our seniors deserve. Today, we highlight four Class of 2023 grads to learn more about their plans and find out a few extra tidbits about who they are and why they're headed to their next destination.
Congratulations to our Class of 2023 graduates! 
Remember, once a bulldog, always a bulldog.
BKW grad to attend Hartwick College to pursue a nursing degree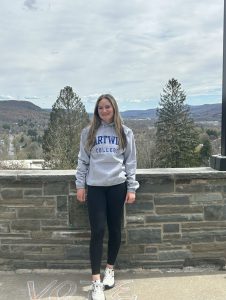 Sometimes a reminder from the past can influence your future. For BKW senior Ashlee Stevens, that special visit was from a former alumnus visiting her sports medicine class during her senior year. Former BKW student Liz Harvey made a guest appearance and shared her experiences in nursing. At that moment, Ms. Stevens knew the nursing profession was her future, and now she gets to pursue that career pathway at Hartwick College. After completing college, Stevens plans on pursuing travel nursing to focus on labor and delivery while getting to experience communities across the United States.

In addition to her academic achievements at BKW, she was an active participant in athletics, having played on the varsity squad in soccer (4), basketball (3), and softball (4). She credits her father as an inspiration for helping her to achieve her goals. Learn how she earned her opportunity to pursue a nursing degree at Hartwick College.

How did you know that nursing would be the right choice for you?

Pursuing a career in nursing will allow me to help others. Through my class work, I've realized that I belong in an environment that dedicates itself to improving the health of others. I plan on devoting my time to becoming a nurse that enables patients to feel safe.

How will you approach your upcoming opportunities at Hartwick College?

I plan on being devoted to my studies at Hartwick through their rigorous nursing program during my four years there. At Hartwick, I will gain invaluable experiences in many different healthcare settings. This will help me develop my skills to become the best nurse for my patients.

Finally, what do you expect of yourself after college? Any specific goals you're looking to achieve?

My goals after nursing school are to begin working in the labor and delivery unit. I would also like to do some travel nursing to gain more experience in different places and hospital settings. I want to be a nurse that makes a difference in people's lives.
Setting a course to help others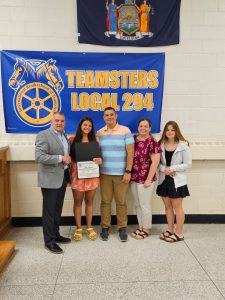 Creating opportunities to help others while increasing your personal pathway is always a positive goal to set. Meet BKW senior Julia Sherman. Currently active in the one-year, honors-level New Visions Health Careers program through Capital Region BOCES, she will be pursuing a nursing degree at Maria College in the fall. She cites her interest in helping and providing care to those in need and has always had an interest in medicine.

She will work towards obtaining her associate's degree in nursing and will then gain full employment with St. Peter's Hospital. During her employment as a nurse, she will continue her education at Maria College to obtain her bachelor's degree in nursing. This option allows her to gain valuable experience in a healthcare-based field while continuing her education. She would like to eventually gain her nurse practitioner license and work on obstetrics.

Learn more about Ms. Sherman with the Q&A below:

How did you become interested in nursing?

My BOCES New Visions program helped me become interested in nursing. During my rotations in the hospital, I could see myself working in several departments because I was so interested in learning how to help others.

How has the New Visions program assisted you in pursuing a nursing degree?

The coursework for New Visions helped me prepare for pursuing a nursing degree because the projects focus on learning about medicine. The coursework is also very similar to a semester in college. I feel much more prepared to enter college after this program because of the work I have completed this school year.

Has anyone at BKW influenced you toward your goals?

Ms. McGovern has helped me immensely. She would always encourage me to pursue my goals. She was especially helpful when it came to my New Visions application. Not only did she assist me with applying to New Visions, but she also wrote my Maria College recommendation letter. I cannot thank her enough for her help throughout the years!

What will you miss the most at BKW?

I will miss the close-knit feeling of the school. I appreciate how everyone knows everyone. I especially enjoyed all of the clubs and activities that I participated in during high school. 
Building a career in real estate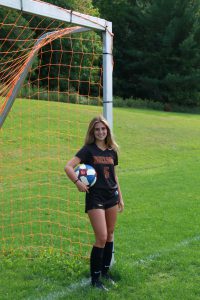 BKW senior Claire Scram knows her passion and plans on getting a jump start on her future career at Liberty University. She will work towards a business degree with a minor in unmanned drone systems. She plans on using her experiences in college to create a name for herself in real estate, something that her dad helped her to recognize at an early age as a real estate appraiser. With that level of support, and a love for properties and telling stories, she plans on taking the first steps to one day operating her own firm.

See how she plans to take the next step in the real estate industry while sharing her memories at BKW.

Why real estate? How did you know that was your passion?

I have been interested in houses since I was younger. My dad is a real estate appraiser, so I have grown up around buying and selling houses my whole life. I have always found myself going on real estate websites looking at the local houses being placed on the market, so I decided it would be fun to sell real estate.

Who has been the biggest influence in your life?

The person(s) who had the biggest influence on my life were my parents, friends, and coaches.

Favorite memory at BKW?

My favorite memory at BKW was breaking the school pole vault record.

Where do you see yourself in ten years?

I see myself owning my own real estate business and living in the South. I plan on having a dog and starting a family. 
A Journey to a Brighter Future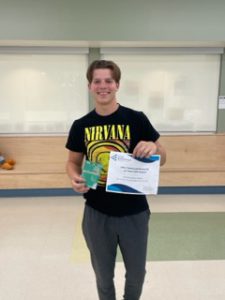 BKW senior Chris Davis is planning his future step-by-step as he nears commencement. In the fall, Mr. Davis will attend Hudson Valley Community College (HVCC) to focus his studies on physical education and coaching. He's excited to bring what he has learned on the athletic fields at BKW and translate those skills to making future students stronger in their athletic pursuits. After HVCC, he will pursue his skill sets by completing his teaching certification at Russell Sage College.
In the meantime, he's preparing for a coaching career by interning with the district as a coach. Learn how he has made adjustments to his educational pathway and how he intends to impact future generations.
What about your future excites you?

What excites me is the infinite amount of knowledge and opportunities I can grasp throughout my journey.
How will you approach teaching and influencing students?

While trying to maintain being a respected teacher I also wish to be a relaxed one, one a student could talk to if ever in the situation or needing help.
Where do you see yourself in ten years?

In ten years, I see my career in teaching started and prospering, along with a coaching career with a successful program.