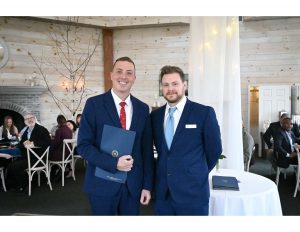 On Wednesday, March 25th, the Capital District YMCA hosted a ceremony highlighting their Outstanding Student and Educator Awards at its Student and Educator Breakfast at the Appel Inn in Altamont. This year, BKW technology teacher Bill Dergosits joined a group of nominees recognized for their work and advocacy in the classroom.
"Mr. Dergosits continues to set the bar in teaching and engaging our students in the classroom," said BKW Secondary Principal Mrs. Kane. "His drive and dedication to our school community is second to none. We are fortunate to have fantastic teachers represent our district."
Representatives from throughout the county were recognized for their achievements and celebrated for their ability to teach and demonstrate important values to their students.
During the ceremony, recipients received an Albany County proclamation from Albany County Executive Daniel P. McCoy.