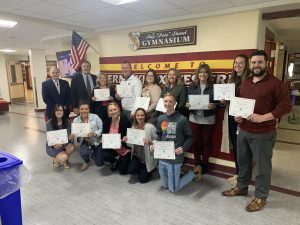 The Berne-Knox-Westerlo Central School District (BKW) was recognized as the first public school system in New York state to achieve trauma-skilled certification by the National Dropout Prevention Center (NDPC). Over the past three years, BKW district administration, faculty, and staff participated in a series of multi-day workshops to learn how to recognize, engage, and build student resilience in light of observing or experiencing traumatic activity. 
Of the twenty-seven schools in the U.S. to be trauma-skilled certified, BKW stands as the only district in New York state to achieve this critical accreditation. The district was officially presented with its certification by Dr. Bill Daggett, Founder of the Successful Practices Network (SPN) located in Ballston Spa, NY. Dr. Daggett is a former teacher and administrator, as well as director with the New York State Education Department. Dr. Daggett places a strong commitment to individuals with disabilities and has authored numerous books, reports, and articles about learning and education.
"This recognition could not occur without the help and support of our faculty and school community," said BKW Superintendent of Schools, Dr. Timothy Mundell. "The work that we have implemented over the years continues to create opportunities to lift roadblocks in engaging our students. The ability to recognize and assist students affected by trauma creates opportunities to increase social and emotional connections while supporting our school community. We will continue to foster an environment where our students feel safe during a time of need. As a district, that's always our main priority."
NDPC offers a Trauma-Skilled Schools Institute, which provides in-depth training in the NDPC's Trauma-Skilled Schools Model. The Model focuses on the implications of adverse childhood experiences on school behavior and learning, the development of essential resiliency skills in the classroom and in other school experiences, and the acquisition of educator skills that enable trauma-impacted students to succeed in school.
On October 11, 2022, Dr. Mundell presented the district's trauma-informed student engagement program at the 32nd Annual Conference of the National Dropout Prevention Center, in Atlanta, GA. During the presentation, Dr. Mundell reviewed and shared the details of the district's continued commitment to its engagement program involving students, faculty, and staff.
The following criteria are prioritized when reviewing qualifications to become trauma-skilled certified:
Provide a framework that allows schools to address stress and trauma and review its impact on learning behaviors

Improve social-emotional components of learning and engage today's students.

Building resiliency through positive connections, understanding strengths and perceptions outside of school, then transferring those skill sets in today's classroom.
"This recognition is the result of the hard work and dedication of our school community to prioritize the health and safety of our students," said BKW Director of Pupil Services Susan Sloma. "We have placed equity into this important outreach and strongly believe in its influence to prioritize the social-emotional connection between our staff members and students. We are thrilled to be recognized, but our work isn't finished. We are excited to keep this process moving forward to create a healthier and stronger BKW community."
###
About the National Dropout Prevention Center (NDPC)
NDPC was founded in 1986 to serve as a clearinghouse on issues related to dropout prevention and to offer strategies designed to increase the graduation rate in America's schools. Over the years, NDPC has become a well-established national resource for sharing solutions for student success. It does so through its clearinghouse function, active research and evaluation projects, publications, and through a variety of professional development activities. The organization's Web site (https://dropoutprevention.org) is the nation's leading resource in providing effective, research-based solutions to engaging students and reducing dropout. In addition, NDPC conducts a variety of third-party evaluations and Program Assessment and Reviews (PARs) for schools and districts nationwide. By promoting awareness of successful programs and policies related to dropout prevention, the NDPC impacts education from the local to the national level.
About Berne-Knox-Westerlo Central School District 
The Berne-Knox-Westerlo Central School District is located about 25 miles west of Albany and about 150 miles north of New York City. Its two school building serves just over 700 students and provides an environment that fosters the creative, emotional, intellectual, and physical well-being of each student in order to enable a mastery of the curriculum and a life-long learning capability to meet the challenges of the future. To learn more about the BKW school community, please visit https://www.bkwschools.org/about-us/.
-30-