Over the past several weeks, BKW Elementary School fifth grade students have been utilizing virtual reality technology to dive deeper into their coursework. How does it work? Virtual reality allows students to experience a three-dimensional image or environment that can be interacted with in a seemingly real or physical way.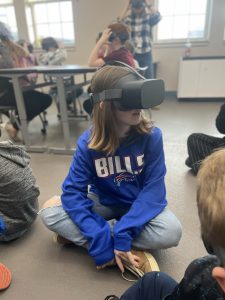 Currently, students are getting to receive a hands-on opportunity to learn more about ancient civilizations in Mesoamerica. The students recently went on a virtual field trip of Mayan and Aztec Ruins, utilizing the RobotLab Advanced Expeditions VR Kit made available through their participation in Model Schools. The Model Schools Lending Library allows districts to borrow VR equipment as well as other STEM-related tools to utilize in the classroom.
To assist with the preparation, the district welcomed a team from the Northeastern Regional Information Center (NERIC) Model Schools program to set up the technology in the classroom and provide support for this unique learning option. Hilary Dee and Colin Strainge from the NERIC Instructional Team worked with the fifth-grade teachers to bring the field trip to fruition for the students. 
"Bringing VR to schools is one of my favorite aspects of our program," shared Northeastern Regional Information Center (NERIC) Model Schools Coordinator Ms. Dee. "Students get to visit new places and actually feel like they are there, so it really brings the lessons to life! The BKW fifth-grade students were very excited to visit the ruins and see the details up close as if they were actually touring the sites." 
"We are incredibly excited to have our students become so involved in this learning experience," said BKW Elementary School Fifth Grade Teacher Ms. Malone. "To experience something outside of a textbook only increases their ability to understand topics while wanting to learn even more. This is a tremendous opportunity to access first-rate and innovative technology to incorporate in our BKW classrooms."