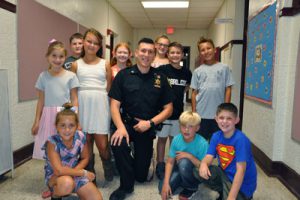 Visitors to BKW Schools will find an unfamiliar, but reassuring person walking our halls—our new school resource officer Albany County Deputy Sheriff Nate Bray.
Deputy Bray began on the first day of school this year. His role is three-fold. He mediates student and family issues, educates students on drug and alcohol awareness and bullying, and is a presence to protect students and staff.
"My office is set up in the high school, but I'm always walking around and available to anyone who wants to talk to me," he said.
Deputy Bray graduated from Shaker High School and earned his Associates in Criminal Justice at Hudson Valley CC. Safety became a part of his life long before he put on a uniform. One of his earliest jobs was as a lifeguard (and later head lifeguard) for the Town of Colonie.
BKW Superintendent Dr. Timothy Mundell said he is thrilled to have Deputy Bray in our district.
"This is one more way we can help keep our students and employees safe," he said.
"He is a resource that we can draw on as we work with our students. He brings a different perspective to the many situations that arise each day in school."