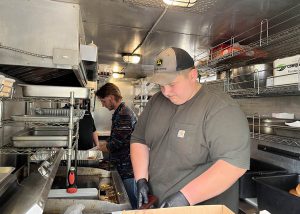 Students, faculty, and staff on the Capital Region BOCES Career & Technical Education Center – Schoharie Campus wanted to show senior Nate Parslow that they care and "have his back."
On June 6, fellow Construction/Heavy Equipment students Tyler Harnett, Jeremiah Taylor, and Nate Lupi joined forces with The Babbling Brook Watering Hole & Eatery owner Brad Stevens to run a food sale on campus and in just a few short hours, more than $600 was raised for Parslow, who was seriously injured in a car accident on March 5.
"Jeremiah and I came up with the idea and we brought it to our boss who was great with it. He donated the food and his truck and time," said Harnett, who, along with Lupi, attends BOCES from Berne-Knox-Westerlo. Taylor and Parslow are Schoharie High School students.
An earlier fundraiser on the Career and Technical Education Center campus, Pretzels for Parslow, raised more than $300, and other funds have been raised through efforts undertaken by cosmetology students and students in other programs.
"The students have been fantastic and so supportive," said Andrea Rea, a teaching assistant on the campus who assisted in the food truck event.
"This is really about family and showing how we are all here for each other," she added.
Harnett said the support shown by the campus was "great. Really awesome."
Managing Program Coordinator – Business & Community Partnerships Nancy Liddle said "I am beyond proud of the teamwork displayed by the students and staff as they worked together seamlessly to raise funds for the Nate Parslow benefit. These students demonstrated the workplace and teamwork skills that CTE strives for."