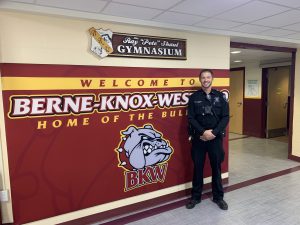 Each year, the Berne-Knox-Westerlo Central School District partners with the Albany County Sheriff's Department to create a safe and healthy learning environment for our students, faculty, and staff. As part of that effort, the district works with our School Resource Officer and Albany County Sheriff Deputy Hughes.

This marks his second full-time year in the district providing a reassuring presence in our school buildings. But it's not just safety that's provided by Deputy Hughes. In his role, he also commits his time to visiting classrooms to discuss safety and prevention awareness, such as building trusting relationships with students to address school bus safety, cyberbullying, vandalism, and crime prevention.
The role of the School Resource Officer (SRO) is an important one to all of us. They dedicate their service to providing health, safety, and security for our students and faculty while representing law enforcement's high standards. If you see your SRO, be sure to say hello and thank them for their service. 
Today, we share our Q&A with Deputy Hughes.
How do you view your role within the BKW school community?
I see myself as a positive presence who can be relied upon when needed. A liaison between the school and outside emergency resources.  I enjoy attending athletic events, school festivals, or any other after school event. This helps me build positive relationships with students and members of the community.
How do you positively engage students in today's classroom?
I try to educate them on what they do in their everyday lives. Whether it's driving safety, interactions online, or drug, alcohol and vaping prevention. My presentations are interactive. Students are able to answer questions from their chrome books and I can review their answers. This allows me to get a better understanding of what students are actually thinking about and we can have open conversations.
Finally, how do you feel your presence contributes to a safer school community?
It starts everyday with the presence of a patrol car on the school campus to encourage motorists to operate safely in a school zone. The primary function of an SRO is safety and security, but another function is education. If I can talk to members of the community or students to create a safer environment, that's the method I prefer as an SRO.