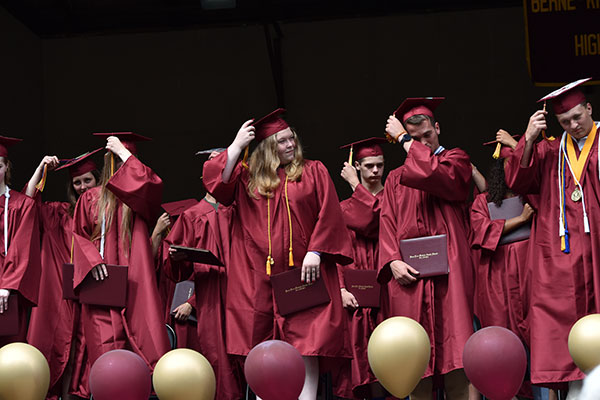 View our photo gallery on Facebook
View our graduation slide show
Congratulations to the BKW Class of 2021! Forty-six seniors graduated on Saturday, June 26, 2021, at a ceremony at the Tawasentha Park amphitheater in Guilderland, where they were cheered on by family, friends, fellow students and community members, and honored by BKW administration, Board of Education members, faculty and staff.
After the seniors' processional to the stage, Salutatorian Corey Bub sang the National Anthem. Secondary School Principal Dr. Mark Pitterson gave the welcome, Board of Education President Nathan Elble provided introductory remarks, and Superintendent of Schools Dr. Timothy Mundell addressed the graduates, each telling the students they were proud of them and their ability to adapt, be resilient and excel despite the challenges of the past 16 months. 
In his Salutatory address, Corey Bubb spoke of his many friendships at school and accepting his own differences as an individual on the autism spectrum, telling his fellow graduates, "No one is better than the others – what matters is the person you have become. This is just the first act of the rest of our lives."
Valedictorian Quinn Toomey, in his address, also spoke of friendship, and of the importance of "camaraderie, resilience and helping others." The Class of 2021 donated their senior trip funds to help a local family who had experienced a serious motor vehicle accident. Quinn also said he never thought he "would be taking college courses in bed" because of the pandemic, and like Corey noted that graduation was "just the first stepping stone."
Class President Ryan Bungay presented the Teacher of the Year Award to Amanda Gorman, who then spoke of her love for the students. Class Vice President Kelsie Apicelli introduced commencement speaker Brian McCoy, who infused chemistry-teacher humor into his comments. "Perseverance – smashing through that boulder," and failure are the two keys to growth, according to Mr. McCoy, who quoted Yoda, "the greatest teacher failure is."
All of the speakers acknowledged the love, support and patience of family and friends.
The seniors were presented with their diplomas by Dr. Mundell and members of the Board of Education and then pronounced graduates, moved their tassels and tossed a few hats before their recessional and post-ceremony celebrations. Congratulations to all of the Class of 2021!