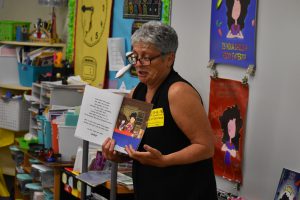 On Tuesday, Elementary School students participated in "Try It Tuesday", an event designed to get them to try a new fruit or vegetable at lunch and be more open to trying new foods in their everyday lives.
Author and master gardener Kim Korb travelled all the way from Rhode Island to read her book "Icky Picky Suzie" to students and talk with them about trying new foods. Korb says science shows you need to try a food 14 times before you know if you like it or not. Students also read other stories and did activities, such as identifying different parts of plants. Many classes have been growing their own plants in their classrooms with the help of the district's new hightunnel.
Students were able to try fresh fruits and vegetables from a rainbow buffet in the lunchroom, including watermelon, kumquats, pomegranate seeds, peppers, and cantaloupe.
Try It Tuesday is part of the BKW PTA Health and Wellness Days going on at the Elementary School this week. Activities include Recess Yoga and Boot Camp, Mindful Music Lunches, Kindness Coupons, and a Screen Free Tracker.