BKW Secondary School is proud to announce its top students of the Class of 2020. Named class Valedictorian is Bryan Doolin, 16, of Tabor Road, Berne. The class Salutatorian is Emily Purcell, 17, of Thacher Park Road, East Berne.
Bryan Doolin – Valedictorian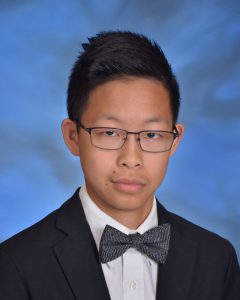 Bryan Doolin, the son of Thomas and Ellen Doolin of Berne, is the Valedictorian of the BKW Class of 2020.
He will attend the Rochester Institute of Technology in the fall and major in Mechanical Engineering. His dream job someday would be helping to create technology that positively impacts peoples' lives all over the world. He credits the BKW Design and Drawing class for sparking his interest.
Bryan describes himself as "determined, ambitious, creative, and confident," but down deep "like any other person facing the same challenges as everyone else."
"I'm determined because I have this mantra that once I start something, I must finish it to the end for better or worse," he said. "I'm ambitious because I try to give my all. I'm creative because I enjoy expressing myself, mostly through origami and creating projects. I'm confident because I believe in myself."
While Bryan has worked hard over the years toward academic success, he credits his teachers (namely Mr. Decker, Mrs. Kane, Ms. Cummings) and parents for guiding him on the path to success. "My parents are my rock at home, driving me to late night practices, and coming to support me at my games and meets."
What Bryan liked most about attending BKW schools was the small community feel. "The small size of BKW allows for more personal connections with teachers which enhancing learning," he said. "Unlike bigger schools, at BKW, students are individual people, not numbers, to teachers.
Bryan received numerous academic and service accolades at BKW including High Honor Roll from eighth grade on, National Honor Society, the Dr. Gary Kolanchik Award for "kindness to other students," Scholar Athlete, the 4-H Gold Medal, NYSSMA Outstanding Evaluation, the Presidential Academic Excellence Award, the Schoharie Area School Boards Association Valedictorian Award, the Harold H. Murphy Memorial Scholarship Award for Mathematics, 4-H Scholarship and the RIT Presidential Scholar Award.
He was also very active in various student organizations, clubs, activities, athletics and his community. This included participating in the All County Music Festival, school marching band, Masterminds, Stock Market Club, Seaperch underwater robotics club, Albany County 4-H, Chess Club, Teen Action Group, Junior Superintendent – Altamont Fair, Cornell Career Exploration, Wonders of Washington, STARR leadership program, Capital Days government experience, Hailey's Hope Foundation, Center For Donation and Transplant, Albany TAG Adopt a Family, BKW soccer, basketball, track & field and indoor track.
Facing a senior year with the restrictions and changes due to COVID-19 was both a "disappointment and a wake-up call" for Bryan, learning remotely for four months and missing out on spring athletics and senior-year celebrations.
"My senior year showed me that life will throw you many curve balls and it's how to adapt and push forward that determines who succeeds. Like Rocky Balboa (Sylvester Stallone) said, 'It's not how many times you get knocked down that counts, it's how many times you get back up'."
Emily Purcell – Salutatorian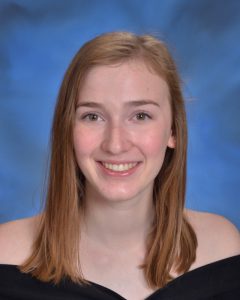 Emily Purcell, the daughter of Daniel and Gwen Purcell of East Berne, is the Salutatorian of the BKW Class of 2020.
She will attend Roberts Wesleyan College in Rochester in the fall and major in Psychology with a minor in Environmental Science and Global Studies, as part of the Global Honors Program. She says she'd like to pursue a career in psychology, such as ecopsychology or counseling, so she can help others.
Emily describes herself as a "kind, genuine person who has compassion for serving humanity."
"I enjoy the vivaciousness life offers, and desire to help others discover their passions," she said. "My strong faith constructed my personality, and influenced who I am, and who I will become."
While Emily credits her success to "hard work and determination," she'd like to thank her teachers, guidance counselor and family "for the constant support and resources that allowed her to excel."
"My success is ascribed to my resoluteness, and the encouragement provided by others throughout my high school career," Emily said. "By devoting your time and striving for your goals, you will succeed."
What Emily liked most about attending BKW schools was the sense of community throughout the school district. "The amount of support and devotion provided to each student is unparalleled to that of other school districts," she said.
Emily earned numerous scholarships and awards at BKW including the NYS Academic Excellence Scholarship, the Arlene B. Lendrum Memorial Award, the Berne-Knox-Westerlo Choir Award, the Berne-Knox-Westerlo Parent Teacher Association Jean Forti Volunteer Service Award, the Haverly Language Award, the Presidential Academic Excellence Award, the Schoharie Area School Boards Association Salutatorian Award, the Schoharie County Counselors Association Award, the Kenneth White Memorial Award, and the University in The High School Calculus Certificate Award.
She was a member of the National Honor Society, Students Serving Society, BKW Theatre Troupe, Student Senate, Peer Mediation, Girl Scouts, Chamber Singers, South Westerlo Congregational Christian Church Youth Group, and Students Against Drunk Driving. She also played BKW varsity soccer.
While her senior year lacked "closure" due to the restrictions of COVID-19, the Class of 2020 "has made significant memories that will endure through time," she said. "Although we are not capable of creating some of these memories, we are grateful we can all graduate together."