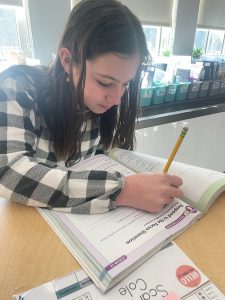 The opportunity to engage in the classroom is key to keeping students focused on a particular subject – whether it's specialized content, images, or passages from a book. With effective reading, combined with comprehension, the whole world opens for students to learn from a multitude of areas — from science and historical events to sports and popular culture. It all comes back to Berne-Knox-Westerlo's implementation of the Welcome to Magnetic Reading curriculum for elementary students. Introduced in 2022, this program focuses on rich and engaging content that draws elementary students into their subject matter.
In fact, through this curriculum program, students are learning and becoming interested in pursuing additional resources in the process. For example, a student might be introduced to a particular passage of a book and is now interested in reading the entire book. The program creates a special connection between the students and the curriculum while building their interest in becoming vested in their reading success.
"This unique reading program enables our students to learn by becoming stronger at comprehending subject matter and expanding their pathway to becoming better students," said BKW Elementary Fifth Grade Teacher Ms. Smith. "To see how they get excited about historical storylines or ask if they can read a complete book on a particular topic is fantastic. We are introducing a fresh way to keep them interested while allowing them to become better readers and students."
The program also creates opportunities to understand the different backgrounds, traditions, and pathways of communities, and groups of people, from throughout historical and contemporary time frames. So, not only are students understanding comprehension and spelling to become stronger readers and writers, but they are introduced to how the world is unique while learning their communities' role within it. The program is an all-in-one opportunity for students to become stronger readers at the elementary level and allows them to experience awareness of history and society.
"Each unit within Magnetic Reading focuses on engaging, interrelated texts and Focus Questions to guide learning. As students continue to read in Magnetic Reading, they develop their storage of knowledge, connect to culturally responsive texts, and develop their reading skills, all while exploring a wide range of topics and ideas," said ELA Curriculum Coordinator and Special Education Teacher Melissa Crounse.