His background in teaching and sports, and love of working with children, are a great fit for the position
Albany County Deputy Sheriff Chris Hughes is now serving as School Resource Officer (SRO) at BKW, filling the position previously held by Deputy Sheriff Joey Stone, who moved to a position with the Sheriff Office's K9 unit. 
Deputy Hughes initially worked on patrol in the Hilltowns and most recently at Albany International Airport in traffic control and transportation safety enforcement. He applied to be an SRO at BKW last year and was happy to be offered the position after Deputy Stone moved to the K9 unit.
"We are pleased to welcome Albany County Deputy Sheriff Chris Hughes to our campus as our School Resource Officer," said BKW Superintendent Dr. Timothy Mundell. "SROs not only keep our schools safe, they serve as positive role models and play a supportive role for our students."
Serving as an SRO is a perfect fit for Deputy Hughes, who earned a bachelor's degree in physical education at SUNY Cortland and taught P.E. before entering law enforcement.
"I have a background in teaching physical education and enjoy helping children grow as individuals through sports and education," he said. "Being an SRO is the best of both worlds, because I get to be a law enforcement officer and also do a bit of teaching. I also like to coach and will reach out to do that in the future, once my children are older."
Deputy Hughes played collegiate rugby at SUNY Cortland and also played football, baseball, basketball and tennis. When he isn't spending time with his wife and children, he plays in recreational kickball and dart leagues.
Deputy Hughes is a Capital Region native who graduated from Watervliet High School. He's also very familiar with the rules of the road: besides working as a deputy sheriff and teacher, he once drove a CDTA bus. It's a short trip to find Deputy Hughes at BKW. When he isn't working with students or moving about the school, his office is located near the main office of the Secondary School.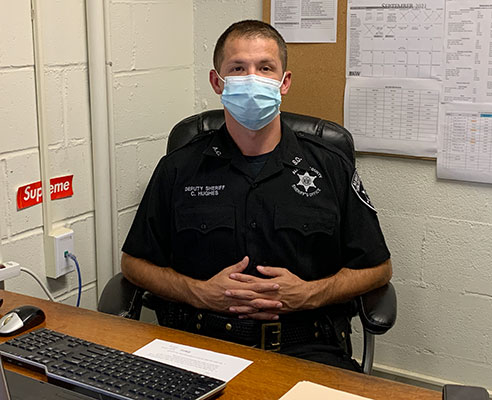 Deputy Sheriff Chris Hughes, who became BKW's School Resource Officer after Deputy Sheriff Joey Stone went to the dogs.