The annual Capital Region BOCES National Signing Day was a success with 30 high school students signing letters of intent and a crowd of more than 180 business, family, labor, and education supporters watching.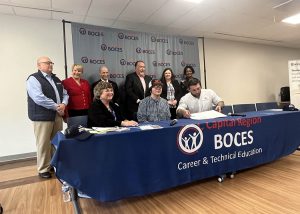 During a ceremony at the Career & Technical Education Center – Albany Campus, dignitaries celebrated the students as well as the valuable role BOCES plays in preparing students to become contributing members of society and the workforce.
The Capital Region BOCES event was affiliated with the SkillsUSA National Signing Day, which mirrors the NCAA's National Signing Day for athletes who commit to play sports in college. It is designed to honor students who are entering a technical field and to celebrate the dignity of work.
The following BKW students signed a letter of intent at this year's ceremony:
Cameron Harless, HVAC/R, Crisafulli Bros. Plumbing & Heating Contractors, Inc.
Tyler Harnett, Construction/Heavy Equipment, The Laborers' International Union of North America Local 157
Nate Lupi, Construction/Heavy Equipment, The Laborers' International Union of North America Local 157
"It feels great to have a job lined up. You come to BOCES, learn and you get a reward for your hard work," said Berne-Knox-Westerlo senior Tyler Harnett, a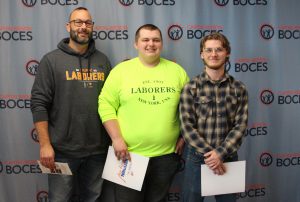 Construction/Heavy Equipment student who is going to work for The Laborer's International Union of North America, Local 157.
"BOCES is creating the necessary and magnificent talent needed for what many of us are calling the building and infrastructure generation," said Crickett Thomas-O'Dell, Statewide Pre-Apprentice Program Coordinator and Director of Community Engagement, Workforce Development Institute. "Without workforce development, we cannot have economic development," she added.
"Pursuing your career now is as important as going to a four-year college or playing a sport," Capital Region BOCES Senior Executive Officer Joseph P. Dragone, Ph.D. told the students.
Among those speaking at the event were Assemblymember Mary Beth Walsh; Chris Pinheiro, Director of Apprenticeship, New York State Department of Labor; Katie Newcombe, Chief Economic Development Officer, of the Center for Economic Growth; and Todd G. Helfrich, President and CEO, Eastern Contractors Association.