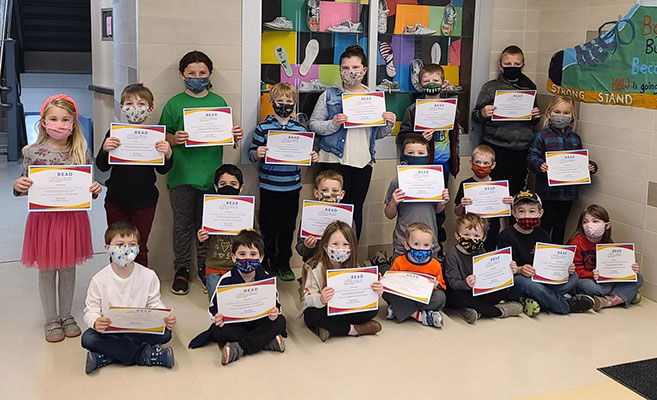 When BKW Elementary students take on a challenge to help others, they really shine. A dedicated group of students recently hit the books and raised more than $1,687 by Reading for Ronald McDonald House. Their fundraising will help the Albany-based program provide housing and supportive services to families of children who are sick and receiving treatment from area hospitals.
To raise funds for Ronald McDonald House, the students kept track of time they spent reading for the local charity and collected pledges from their families, friends and other supporters.
Why did the students volunteer to Read for Ronald McDonald House? Here's what some of the children said:
"I just wanted to read and help kids with cancer." Mason, grade three
"I love to read graphic novels and wanted to help kids with cancer and other diseases." Makenzie, grade four
"I read to help out kids with cancer." Logan, grade five
"I don't really like to read, but I did because I knew I was reading for kids that were sick and wanted to help them." Natalie, grade three
"The kids did a fantastic job!!" said Nancy Damato, Capital Region Coordinator of Read for Ronald McDonald House Charities (RMHC), in a letter to BKW Elementary Principal Annette Landry. "I'm so excited to tell you that your students earned $1,687.30! During this extremely challenging time, these donations become even more critical to RMHC, and I thank you for your efforts to bring this support to our RMHC families."
The students will receive certificates and prizes for their efforts. Some also may have the opportunity to tour Albany Ronald McDonald House in the future, when it's safe to do so, to see firsthand how they've helped others.
According to their website, "Since 1982, the Albany Ronald McDonald House has served more than 17,000 families from across the country and around the world. The House is the cornerstone of RMHC of the Capital Region, providing a home away from home — free of charge — for families with children facing serious medical issues."
Congratulations to BKW's generous and helpful readers, and thanks to all who Read for Ronald McDonald House.