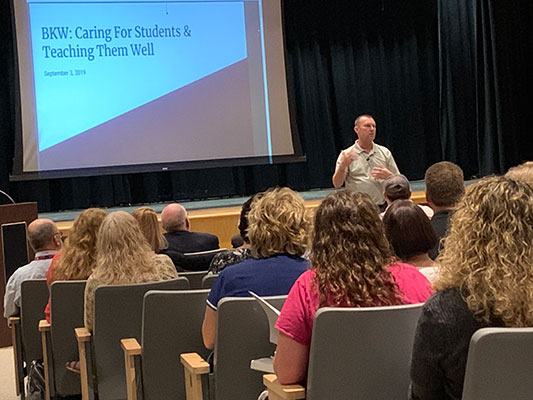 With a focus on positive changes benefiting all students, BKW faculty and staff joined with Superintendent Dr. Timothy Mundell, Board of Education President Nathan Elble and board members Rebecca Miller and Matthew Tedeschi in kicking off the new school year at a Sept. 3 conference day.
In his districtwide welcome, Dr. Mundell recognized buildings and grounds staff for their round-the-clock efforts to ready the schools for the arrival of students, and he thanked faculty and staff for their teamwork in the midst of ongoing school renovations and construction. "We will be seeing changes day by day and week by week," he said. New servers, wiring and interactive classroom monitors are among the improvements awaiting students.
They are because we are: BKW has a 94 percent graduation rate, has added a dozen college-credit-bearing courses and has one of the highest participation rates in state assessments, Dr. Mundell noted. Trust, unity and inclusiveness are growing in a district that will welcome 39 of the littlest learners to its pre-kindergarten program this year.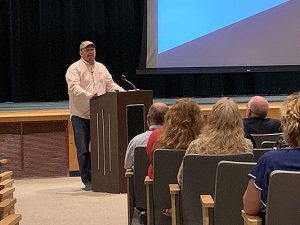 In his comments to faculty and staff, Board of Education President Elble highlighted the district's efforts to build a more positive climate and culture. This includes an updated regional curriculum, a thriving and award-winning FFA chapter, and participation in the Farm to School program.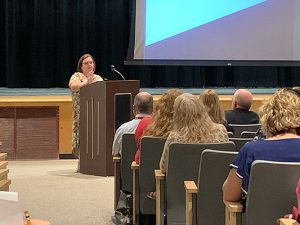 Board Member Miller cited the district as stepping forward into growth. She recognized BKW's efforts to provide expanded learning opportunities for all of its students.
Board Member Tedeschi noted BKW's fiscal strength and academic growth. He also recognized the community for its continued investment in the district's students.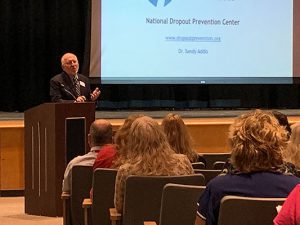 Professional development activities following the conference day assembly included a keynote presentation by Dr. Sandy Addis of the National Dropout Prevention Network (pictured above) on trauma-skilled schools, as well as workshops for teachers, teaching assistants and aides and training for school bus drivers.