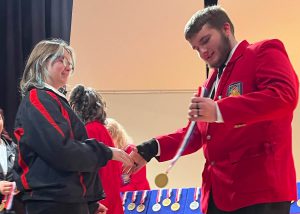 Recently, twenty Capital Region BOCES Career and Technical Education students showed their in-depth knowledge of the skilled trades and earned medals at the regional SkillsUSA competition Thursday, March 16 in Schenectady, and Albany. Part of that first-place SkillsUSA medal group included BKW junior Sadie Plant for Advertising Design/Digital Media and senior Allyson Bates for Cosmetology.
"I am pretty excited about winning," said Sadie Plant, who took first place in the Advertising Design competition. "I learned a lot and I hope when going to states I can learn a lot more by learning from the other kids competing."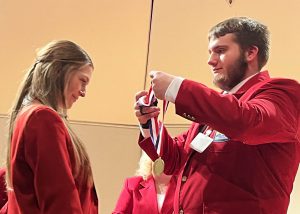 The student competitors, who hail from school districts as far-reaching as Bethlehem and Cobleskill-Richmondville, showed expertise in areas as diverse as carpentry and commercial baking, diesel engine repair and network cabling. They competed against their peers from Questar III and several other BOCES during a day filled with events at Schenectady County Community College (SCCC) and the Career & Technical education Center – Albany Campus.
The seven first-place winners and many other medal winners earned their way to the state SkillsUSA competition next month. The state SkillsUSA competition will be conducted in late-April at the New York State Fairgrounds in Syracuse. Winners of that event will advance to the national competition in June.