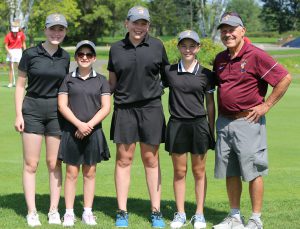 For the first time in school history, the Berne-Knox-Westerlo Central School District is proud to announce the first Girls Varsity Golf Team led by Coach Don Dennis. This year's team includes eighth-grade student Lauren Murphy and seventh-grade students Emma Carey, Skylar Stevens, and Alexa Hubbard. They will compete in the Western Athletic Conference for the fall athletic season.
"I'm excited to be a part of something so important for our school," said eighth-grade student Lauren Murphy.  "Golf is such a difficult sport to play and I'm happy to be a part of this team, and to grow together. We hope more girls decide to make the decision to join our team."
"We are extremely proud to introduce the first-ever Girls Varsity Golf Team in our district," said BKW Athletic Director Mr. Galvin. "At BKW, we believe in supporting our students within our classrooms and on our athletic fields. This year, we are introducing another athletic team that gives our student-athletes access to the game of golf while expanding opportunities to become well-rounded members of our school community."
Here's to a successful year!