BKW Secondary School is proud to announce its top students of the Class of 2021. Named class Valedictorian is Quinn Toomey, 18, of Church Road, Berne. The class Salutatorian is Corey Bub, 18, of County Route 412, Westerlo.
Quinn Toomey – Valedictorian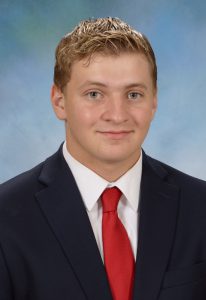 Quinn Toomey, the son of Kevin and Kelly Toomey of Berne, is the Valedictorian of the BKW Class of 2021.
He will attend Keuka College in Keuka Park, NY, and major in Applied Mathematics and Finance, as well as playing for the school baseball team. His dream job, he says, is becoming a financial advisor where he could help others plan their financial futures while utilizing his strong math and finance skills.
Quinn describes himself as a "practical and hardworking" person who likes to stay as busy as possible. "I'm not able to stand around and do nothing," he says. "I have to keep myself busy, whether that be mentally or physically. I love playing sports with my friends and competing."
While Quinn has worked hard over the years toward academic success, he credits his family for helping him in all parts of his life.
"My parents taught me that nothing comes easily, and that you have to work for your own success," he explains. "Despite my parents always being there and supporting me, my sister deserves the most credit for me becoming Valedictorian. My freshman year, my sister was named Salutatorian, and from that day onward it was my goal to be Valedictorian, so she couldn't hold her class ranking over my head."
What Quinn liked most about attending BKW schools was the small community feel. "Berne, being a small school, means that class sizes are small," he says. "Small class sizes means that you can develop a real connection with your teachers, and the teachers understanding their students allows for a better learning environment and a greater opportunity for mental growth."
During his high school career Quinn was very active in various student organizations, clubs, activities, athletics and his community. He was a member of the National Honor Society, Band (5-12), Varsity Baseball (9-12) and Varsity Basketball (11-12). He was also the recipient of several awards and scholarships at BKW's Senior Awards Night.
Quinn says going through a senior year with COVID-19 restrictions was not the way he had hoped to end his high school career.
"There were friends I've grown up with since Kindergarten that I never saw because we had opposite schedules," he says. "I literally started the year taking my classes from my bed before we got a desk for me to work at. After every weekend I would have to text my friends to remember if I was in school or not on Monday. I am glad to have a senior year, but it was not the senior year that me, or any other senior, would have wanted."
Corey Bub – Salutatorian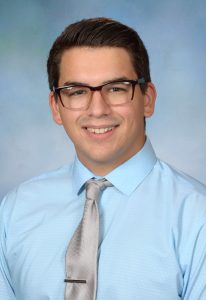 Corey Bub, the son of David and Dawn Bub of Westerlo, is the Salutatorian of the BKW Class of 2021.
He will attend Schenectady County Community College and study Game Design. He chose this major, he says, because he'd like to build upon the education he received through his Capital Region BOCES Career and Tech classes. "My time at Capital Region BOCES allowed me to find enjoyment in the analysis, design, and publishing of board games and computer games," Corey says.
His dream job someday would be to become an animator.
"Animation has grown to be a large part of the world's media, being used in movies, television shows, advertisements and video games," he says. "To be able to apply my technical and artistic skills through such a popular medium seems to be a wonderful opportunity to express new and unique stories to the world."
Corey describes himself as a "unique, creative, loyal, musically inclined, knowledgeable, empathetic, determined and caring" individual.
He credits his high school success to "the many kind, supportive and patient teachers and aides, as well as my loving parents, who have always motivated me to do my best. While most of my accomplishments were made possible through my own determination, it is only by the support of my friends, family and mentors that I have gotten this far," he says.
What Corey liked most about attending BKW Schools was that the students, faculty and local residents are so welcoming and inclusive. "Since the community is so small compared to other schools, BKW is very involved in local events, and the students are able to become more in tune with their neighbors and friends," he explains. "BKW has grown to become the metaphorical glue that brings most of our community together."
During his high school career, Corey was a member of the National Honor Society, National Technical Honor Society, Students Against Destructive Decisions (10-11), BKW Chamber Singers (9-11), and the BKW Theater Troupe (9-11). He also sang, played music and provided technical support as a part of the First Baptist Church of Westerlo Praise Team, and volunteered at the Good Cause Theater Company and the Hilltowns Resource Center. He was also the recipient of several awards and scholarships at BKW's Senior Awards Night.
Finishing high school in the midst of a pandemic was difficult to say the least, Corey says. "Having to be separated from many of my good friends for such a long time made it hard at times to remain optimistic. However, I feel that the pandemic has motivated me to improve myself mentally and socially in ways I hadn't thought about before."
Being diagnosed with autism at a very early age has also been challenging for him. "As soon as I began school, I found that everyone else seemed very different from me, and that made me see myself in a rather negative light," Corey says. "But over time, I found friends who helped me to be comfortable with who I really am, and I recently began to view my differences as something beneficial and unique, rather than destructive. It seems unlikely that I would have arrived on this path without the teachers, friends, and, dare I say, family, I found at BKW."