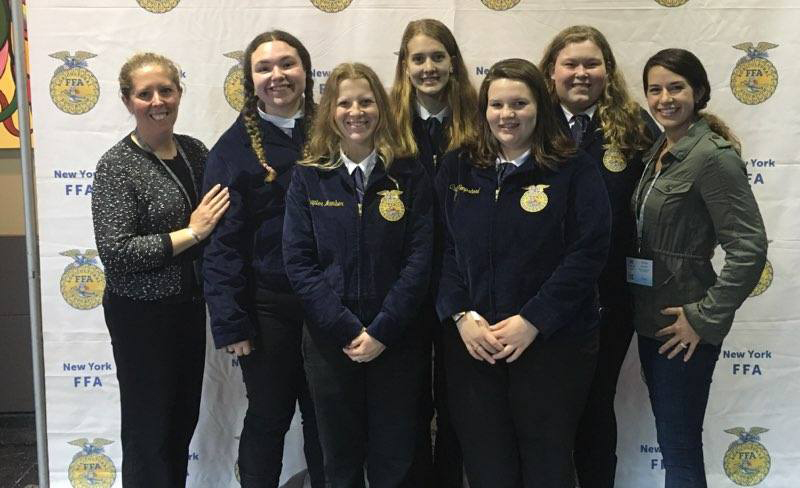 The Berne-Knox-Westerlo FFA chapter was well represented at the New York state FFA convention last week, as two students placed statewide and the chapter was awarded the Chapter Jacket Award.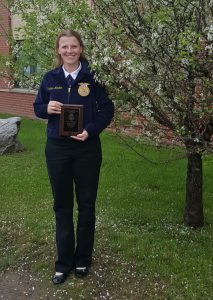 Kayleigh Reynolds-Flynn got the convention started as she placed first in the state in the People in Agriculture competition. That same session, the BKW FFA chapter was awarded ten FFA blue corduroy jackets for the Chapter Jacket Award. The next day, Shelby Clickman placed seventh in the state for the Discussion Meet competition.
Callie Hempstead also participated in the Agriculture Education Incentive Grant workshop, while Graycie Swan and Amber Gebe represented BKW as delegates for the business meeting and voting process for the new New York state officer team.
Throughout the convention, BKW students attended sessions that had motivational speakers, went to workshops related to agriculture and leadership development, a career show that included 40 colleges and vendors, and toured a local large-scale vegetable farm. They were even able to attend a concert with country singer Scotty McCreery.
Congratulations to our students for their hard work throughout the year for this convention, and their hard work in growing the FFA chapter and agriculture program here at BKW!