BKW Elementary students have been big supporters of Albany's Ronald McDonald House, and this year will be no different. On Friday, Feb. 14, they officially kicked off their Read for Ronald McDonald House 2020 readathon at a special assembly.
Until March 16, the students will keep track of time they spend reading for donations to help the local charity, which provides housing and supportive services to families of children who are sick and receiving treatment from area hospitals.
Read for Ronald McDonald House Program Coordinator Nancy Damato joined with Elementary Principal Annette Landry, students, faculty and staff for an exciting launch assembly, where last year's top readers/fundraisers received special recognition.  "Look at what they did!" Damato told the assembled students.
Last year, BKW Elementary raised more than $1,550. Over the past three years, the students raised a total of close to $5,000. The Feb. 14 assembly also marked the start of BKW's Parents As Reading Partners Program (PARP). Pairing PARP with the Ronald McDonald House effort makes the students' reading effort extra special.
According to their website, Albany Ronald McDonald House "provides a haven of comfort, love, hope and support – free of charge – for critically ill children and their families. [The House aims to] enable family-centered care by keeping children close to their families during a time of hardship.
"Read for Ronald McDonald House encourages children in their achievements in reading, a core skill that is vital to their future success in life'," the website notes. "By participating in this program, children gain skills in reading comprehension, grammar and critical thinking. By giving their time to help others – and using their reading skills to make a difference in their community – students experience empowerment and learn the value of community service."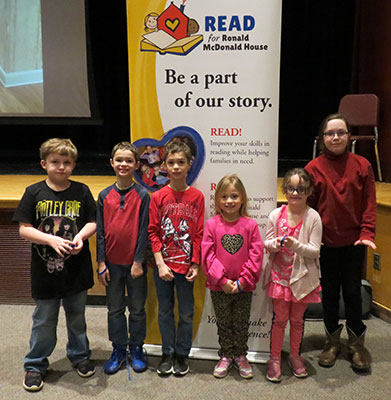 Congratulations to our generous and helpful readers, and thanks to all who Read for Ronald McDonald House!