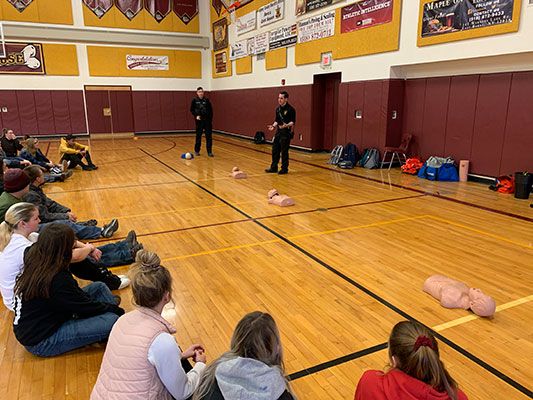 The students gathered in the gym on a sunny school day and sat quietly behind a line of mannequins and bags of medical supplies. By the end of the period, they had learned skills that may help them save a life.
On Jan. 29, BKW School Resource Officer Albany County Deputy Sheriff Nathaniel Bray and Albany County Sheriff's Office Paramedic Shift Commander Jordan Barach taught students in grades 9-12 how to perform cardiopulmonary resuscitation (CPR) and stop severe bleeding by using a tourniquet.
Barach and Bray demonstrated the skills and then had the students practice them by performing hands-only CPR on mannequins and applying tourniquets to themselves and each other. The students learned to do chest compressions at the proper depth and speed by matching the beat of the Bee Gees' "Staying Alive."
To practice further with tourniquets, the students participated in a speed exercise, where they ran to the center of the gym after hearing a cue to go, grab a tourniquet and apply it properly and quickly.
The goal of the training is to teach all students vital skills for use in and outside of school. Shift Commander Barach noted that they might be out in the community and come across someone with a previously unknown heart ailment who needs assistance. Officer Bray noted that injuries causing heavy bleeding can happen on campus, such as if a student were cut in a technology classroom, as well as off campus.
BKW has Stop the Bleed kits in each of its schools and the transportation office, thanks to a donation from the Westerlo Rescue Squad, which recently closed.
Another CPR and stop the bleed session for high school students was set for Jan. 30.
Watch a video of students learning CPR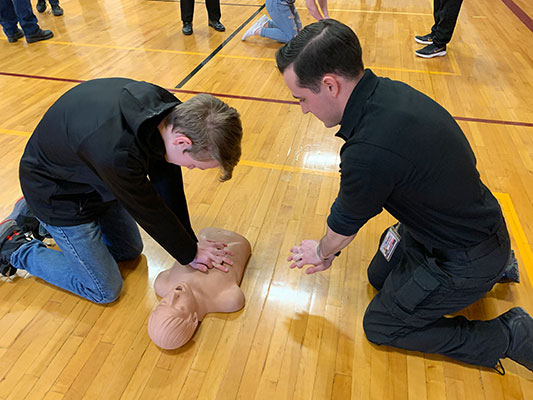 A student gives chest compressions with the guidance of Albany County Sheriff's Office Paramedic Shift Commander Jordan Barach.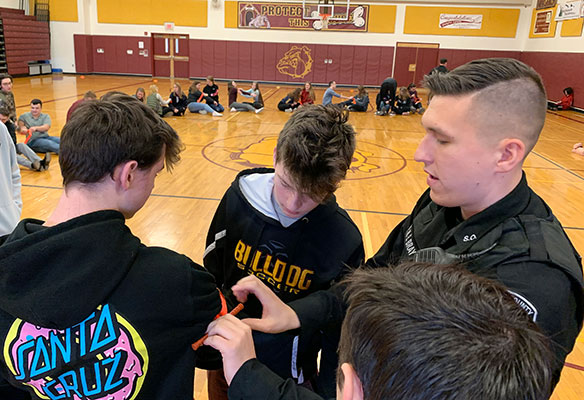 School Resource Officer Nate Bray instructs students in the proper application of a tourniquet.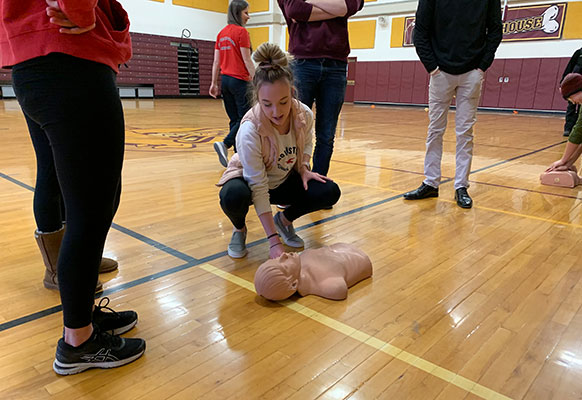 A student checks for responsiveness to determine whether to start CPR and ask someone to call 911. The very first step students learned in CPR and stop the bleed training was to be sure the scene is safe.
Students practice applying and tightening a tourniquet.