This month, former Berne-Knox-Westerlo Boys Varsity Soccer Coach Jim Gillis was named the newest member of the New York State Boys Soccer Coaches Hall of Fame.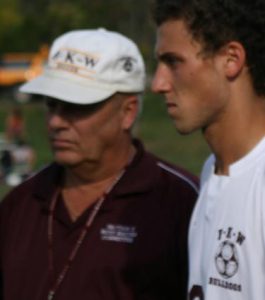 Mr. Gillis coached the Berne-Knox-Westerlo Boys Varsity Soccer Team for 22 years, totaling 202 wins and five league championships during his tenure. He also served as the Section 2 Boys Soccer Coordinator for 18 years, and helped create the CapitalRegionSoccer website in 2002 which still operates today. Mr. Gillis also helped to create an end-of-season All-Star banquet for Boys Soccer.
The induction took place on November 11th. Mr. Gillis is just the sixth coach from Section 2 to be inducted into the Hall of Fame since it started in 1994.
In his time as both coach and coordinator, Mr. Gillis not only helped his team become a successful program, he helped all of Section 2 become more of a community, along with developing a stronger sense of pride for all 84 schools who played in Section 2 while he was coordinator.
Congratulations Mr. Gillis!