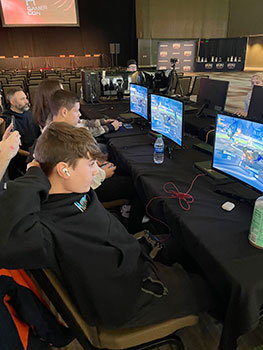 BKW's eSports Rocket League team soared to the top of the 2022 HV Gamer Con at the Albany Capital Center this past weekend.
Team members Nathan Hopkins and Aggelos Lefkaditis led the program to victory in the high school competition. They then participated in an open division competition, where they placed second against a field full of collegiate level teams.
After their competition, our eSports team members gamed with members of other college programs and chatted with coaches as well as professionals in the eSports and video game world.
The team was also invited down to a high school showcase tournament next month for Stockton College in NJ. They are planning on participating remotely and looking to continue their successful season.
Congratulations to the team and advisor Bill Dergosits!