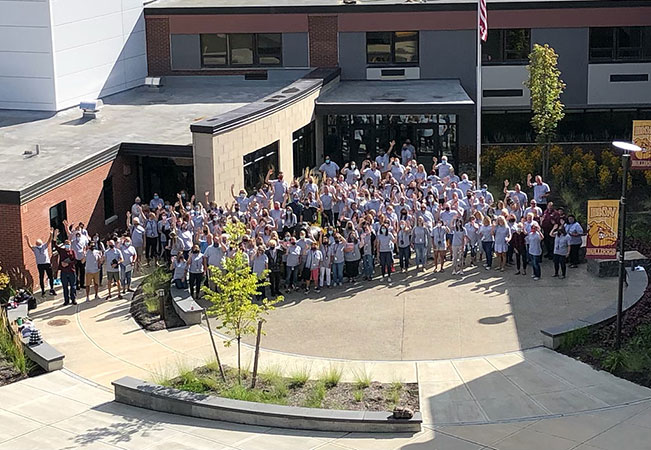 On Tuesday, Sept. 7, members of the Berne-Knox-Westerlo faculty and staff were welcomed back at the annual superintendent's conference day by Board of Education President Mr. Matthew Tedeschi and BKW Superintendent Dr. Timothy Mundell. All in attendance were congratulated on the remarkable efforts demonstrated by everyone in the organization last year while navigating the challenges relating to the pandemic.
Members of the Trauma Informed Schools team spoke about the new district initiatives centered around student connection and belonging. Through their work with staff last year, the team has identified and brought forward a theme around connection and belonging as a tool to strengthen a culture of resilience.
All students and employees will receive a shirt reflecting the theme, "three towns, two schools, one community. The team also acted out self-created, humorous skits showing situations and skills where adults can make connections with students.
Staff also participated in various annual training sessions and meetings. Especially notable is the initiative around the idea of college and career readiness. The grades 5-8 staff are specifically working at identifying and outlining curriculum opportunities to connect content with potential college and career options in order to raise student interest and awareness as they progress through the grades, resulting in individualized plans for life after high school.
-Article submitted by Bonnie Kane