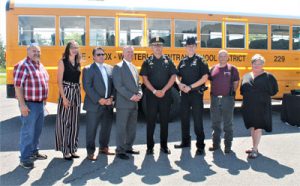 Beginning this fall, new people and technology will make BKW schools safer for students and staff.
The change is part of a joint initiative between BKW and the Albany County Sheriff's Office. Specifically, BKW will have:
Immediate access to  emergency personnel by pushing a large orange button on special Motorola radios,
A new safety app, allowing students and staff to send text messages and photographs directly to the Sheriff's Office, and
A school resource officer who will serve as a mentor and adviser, as well as providing a police presence.
The school and the Sheriff's Office made the announcement during a press conference on Wednesday, July 18 held in Ravena. Ravena and Voorheesville  central schools are also participating in the new program.
"We are pleased that this idea has become a reality," said BKW superintendent Timothy Mundell.
"Providing our students a safe place in which to learn is our highest priority. We recognize we can never do enough, but each aspect of this program is a further improvement in our efforts."
Pressing the orange button on the Motorola radio immediately opens a communication channel to the Sheriff's Office, which remains open throughout an emergency until the Sheriff's office disconnects. There is no risk that anyone could mistakenly or intentionally hang up.
Users with the phone app can send messages and photos to the Sheriff's Office without needing to dial 911. That information can be critical officers responding to or investigating an emergency.
Resource officer
In the wake of school crises across the country, school resource officers are becoming more common in districts. Although they are most often thought of as an in-school response to an emergency, their greater value may be working with staff and students to prevent a crisis.
"The name 'resource officer" says it all," said Dr. Mundell.
"Yes, this person is a police officer, but he or she will be much more. The officer will serve as a mentor for our students, helping them work through difficulties at home or in school. That alone will help identify and address a problem before it becomes a crisis.
"The officer will also help us review our safety plan and offer suggestions to improve district safety."
Paying the bill
The Sheriff's Office and Motorola will provide the school with the emergency radios. The Sheriff's Office will pay a portion of the cost for the school resource officer. BKW will pay the balance out of district funds.
"This is important, so our administrators and the Board agreed to find the $65,000 needed to get this rolling," said Dr. Mundell.