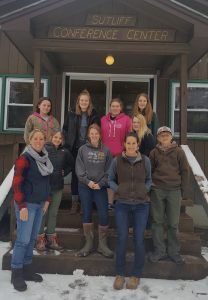 Members of the Berne-Knox-Westerlo FFA chapter attended a three-day Educational Leadership Program at Camp Oswegatchie from April 18th-April 20th. The students teamed up with members of the Galway FFA chapter to complete a number of team-building activities, including a low ropes course, winter outdoor survival skills, and night hikes with no flashlights. Students also learned how to build a fire and shelter in snowy elements.
Kayleigh Reynolds-Flynn, Mackenzie Lawrence, Sadie Plant, Amber Gebe, Morgan Latham, Gracie Swain, Renee Sherwin, and River Townsend all represented the BKW FFA chapter very well. "Meeting and working with new people was a great way to make friends," said Reynolds-Flynn.
"I learned how to be better as an individual and how to work better as a leader and a follower," said Townsend, speaking about her experience at the camp.