Beginning prior to the winter break, students in the elementary school building began participating in the Read for Ronald McDonald House Charities of the Capital Region (RMHC-CR ) program. This year, students will begin this insightful program to strengthen their learning skills and benefit children and families that utilize the RMHC-CR services and support efforts. To learn more about this program, click here.
According to its website, the Read for Ronald McDonald House Charities of the Capital Region is a reading-based community service program that empowers elementary and middle school students to develop lifelong skills while supporting children and families served by RMHC of the Capital Region.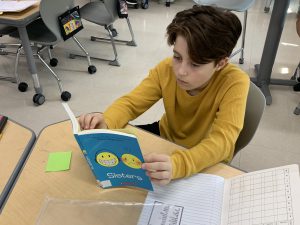 This year, elementary school students will be giving their time to raise funds that support the children and families helped by RMHC-CR all while enjoying some great books! Please encourage your children to participate in this valuable program!  Links to the fundraising page for the elementary school building are available below! As a reminder, additional program details were shared by the elementary building through ParentSquare.
BKW Elementary Fundraising Page
How does it work?
It's simple, and here's how students can learn and support a good cause:
BKW Elementary School students have selected the month of February to begin tracking their reading progress. Students will track each minute they read and will encourage family and friends to sponsor their reading efforts. At the end of the month, all donations provided to the students' effort will be collected and given to the RMHC-CR.
More importantly, have fun, and best of luck!!