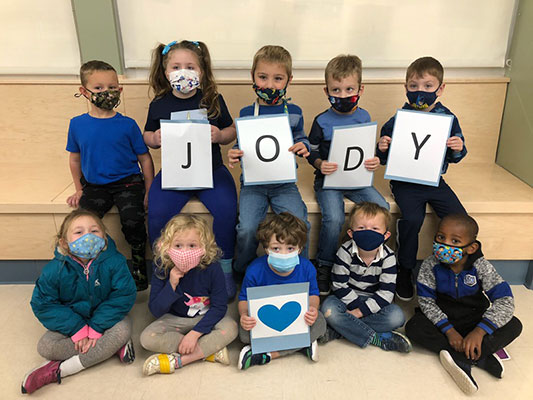 Just before Thanksgiving, Bulldogs of all ages sent their love and well wishes to BKW 8th grader Jody Sisson during Wear Blue for Jody Day at their school. They have also been writing their lessons with blue Jody Strong pencils. Their expressions of love and support are among many shared throughout their school district and beyond.
The community has rallied behind Jody, who is battling leukemia. On Wednesday, Nov. 25, BKW Superintendent Dr. Timothy Mundell worked with the Northeastern Regional Information Center (NERIC) and the Capital Region BOCES to link local churches with the community for an online Healing Vigil for Jody. The web-based event was attended by more than 50 local residents and provided a safe, virtual way for them to gather for the evening vigil. 
Earlier that week, on November 23, Secondary School Principal Dr. Mark Pitterson shared reflections about Jody and his family on his Principal's Page on the BKW website.  
"The 2020-2021 school year began with a revelation that . . . (Jody) was diagnosed with a serious illness," Dr. Pitterson wrote. "He is still hospitalized today, fighting off his illness as I write this letter. There has not been a day that Jody has not been on my mind.
"I am thankful for Jody. He is a fine young man whom I have had the pleasure and honor of interacting. I am thankful that he has loving and supportive parents, family, friends and an entire community who have been pulling for him every step of the way. I am also thankful for the lesson on humility and gratitude for what I have that I am learning from Jody through his battle with his illness.
"As we celebrate Thanksgiving and we count the blessings that we have had in the last year," Dr. Pitterson said in his letter, "I ask everyone to remember Jody. Please keep him in your thoughts."