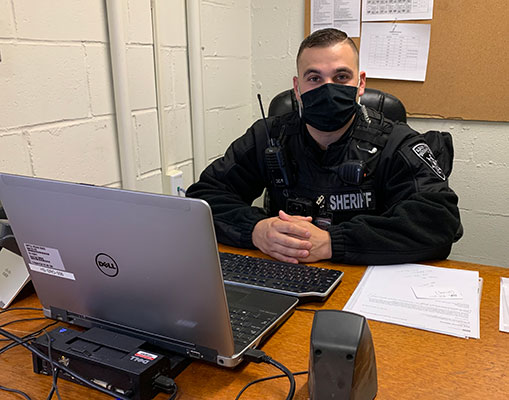 Last week wasn't just back-to-school time for students and teachers at BKW: the district welcomed Albany County Deputy Sheriff Giuseppe (Joey) Stone as School Resource Officer. Deputy Stone joined BKW after Deputy Nate Bray was promoted to a new position in the Sheriff's Office.
Just like many of the students, Deputy Stone's day begins when buses roll in at each school. He's there to greet children from pre-K to seniors, while keeping an eye on their surroundings and safety. He has an office in the high school, but you won't find him there often: Deputy Stone spends hours walking the elementary and secondary schools and visiting with students, teachers and staff.
After just a little more than a week of school, he's already a familiar face who has connected with students, including those who seek him out to talk about school, their day or even fashionable shoes.
"I really enjoy walking the schools and talking with the students," Deputy Stone said. "I enjoy helping out kids, answering their questions, and making sure they have a smile on their face to make it through their day.
"I also love working as a team with staff and teachers," he added, "and I'm here for students, parents and staff to talk to if needed."
Deputy Stone is very familiar with the district and its surrounding communities. He has served for four years as an officer with the Altamont Police Department, and his previous assignment with the Sheriff's Office was at patrol in Clarksville.
Deputy Stone's past positions included working with young people at the Job Corps. in Glenmont. A graduate of Mohonasen High School, he earned an associate's degree in criminal justice from Schenectady County Community College and Bryant & Stratton College, and he is a graduate of the Zone 14 Police Academy in Columbia County, N.Y.
He is also a former semi-pro football player. In his spare time, Deputy Stone enjoys hunting, four-wheeling and spending time with his family.
As the year continues, Deputy Stone will serve as a resource for information, educate students, mediate issues and help keep BKW schools safe and peaceful. He's already a big fan of what he calls "a great place!"

Safety first: Maggie checks Deputy Stone's I.D. badge.