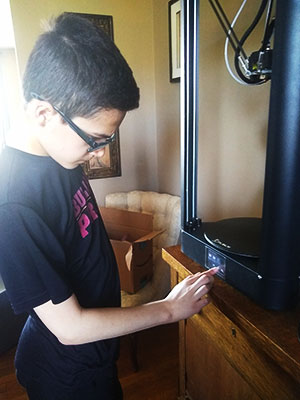 They've taken their home technology from toy making to protecting lives.
A BKW fifth-grade student and his family have teamed up to help local hospital workers during the COVID-19 pandemic by using their 3-D printers to create face shields.
Joaquin and his dad, Mark, connected with a group at the University of Albany after learning about a request for those with 3-D printers to produce the shields for use as personal protective equipment at Albany Medical Center. The father-son team downloaded a National Institute of Health(NIH)-certified design for the shields from the internet and went to work beginning this past Friday.
Since then, their four 3-D printers have been humming away in their dining room and beyond, producing 40 face shields each day that are then picked up by UAlbany volunteer drivers for delivery to the medical center. The university is mailing printing supplies to the family so they can continue creating the shields.
"I couldn't help stop [the virus] in any medical way, but printing the shields is very fun, and it makes me feel better about it," Joaquin said.
The BKW fifth grader is also learning as he helps others. "I already knew how to upload ideas to the printers," he said. "My dad taught me how to take the finished shields off, clear the printers and scrape off the extra stuff, and set up the printers to start new ones."
In the past, before COVID-19, Joaquin's family used their printers to create gadgets and toys to give as gifts. "It's nice to be able to use them for a good cause right now," said Joaquin's mom, Ashley.
When asked if 3-D printing fits into his future career plans, Joaquin said his use of the technology "was more like a hobby."
These days, it's a very special hobby, for sure. "When Joaquin showed me, during a Google Meet call with his parents, what he and his dad were doing for others during this time," said teacher Sarah McArdle, "I immediately wanted to commend him and thought it would be wonderful to highlight them."
For information on 3-D printer plans for NIH-approved shields, visit
https://www.prusaprinters.org/prints/27748-dtm-v30-a4-face-shield-ppe-for-covid-19-remix-of-p .
In the photos:
At top of the page:
Joaquin programs one of the printers to start a new shield print.
Photos below, from first to bottom:
Mark shows Joaquin how to start the new prints
Joaquin wears a makeshift version of how the shield will look (bottom plastic piece is an example and not the final material)
The shields Joaquin and his family are printing, incorporating plastic and elastic from with UAlbany
One of the 3-D printers