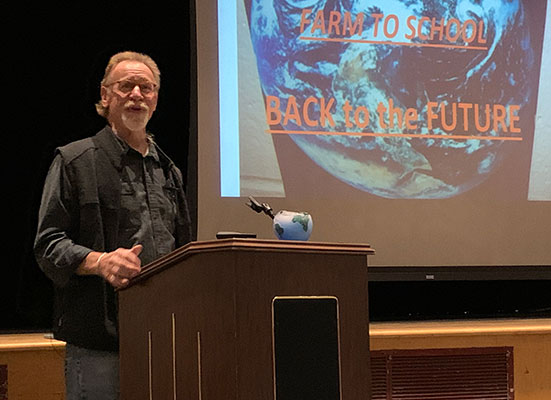 Classroom, community and cafeteria: Farm to School connects all of these, while children learn and grow. On Oct. 15, BKW class of '71 alumnus Joseph Kiefer, a food justice consultant, Farm to School expert, Vermont Food Bank founder, and co-founding partner of Vermont FEED (Food Education Every Day), spoke to faculty and staff at his alma mater during their professional development day.
Kiefer, the oldest of six children who grew up on a Westerlo dairy farm, began his career as an educator and naturalist in Vermont. Observing "a quiet crisis of hunger in schools and a dramatic increase in demand for emergency food," he became deeply involved in initiatives to fight hunger and teach people how to grow their own, healthy food. 
Kiefer's own family struggled to have enough food when he was young, and he recalls a childhood of used clothing and hard work on the farm. Yet he "learned about completing a task and chores along with the responsibility of caring for other beings" – his siblings and his beloved farm animals – and he "relates well to cows" to this day.
That sense of caring is a foundation of his work with educators and students through the Farm to School program. "Schools are not isolated places; they should be a community place" serving more than students. 
"The three Cs of food education are classroom, community and cafeteria," Kiefer noted, and they are at the center of the professional development he and the Farm to School program are bringing to BKW this year. In the district's own cafeterias, students have been enjoying fresh, healthy and regional fare during New York Thursdays, Taste Test Thursdays and Harvest of the Month. 
BKW is one of just 12 school districts from upstate New York and New England selected to participate in the Northeast Farm to School Institute, a unique, year-long program that advances food, farm and nutrition education and expands student access to healthy, locally produced foods in school cafeterias.
Representing BKW at the program's June kickoff at Shelburne Farms, Vt., were Superintendent Timothy Mundell, Board of Education President Nathan Elble, food services manager Claire Groudine, agriculture teacher and FFA advisor Michaela Kehrer, elementary teacher and Junior FFA advisor Sarah McArdle, English teacher Bonnie Kane, and teacher aide Jane Ferrara.
Farm to School is more than meals. The overall goal is to nurture the entire student, a close fit with the district's message, "They are, because we are!"

Dr. Mundell and Bonnie Kane were among a group representing BKW at the Farm to School Institute in Shelburne, VT, this past June.