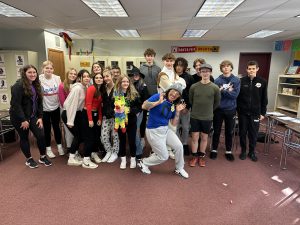 Learning about new cultures always creates an air of excitement. From learning a new language and culture to digging deeper into a country's history and its impact on our own society – – it's an exciting way to learn. At BKW, first-year Spanish Teacher Erika Burke is bringing new opportunities for students to become involved with experiencing the culture beyond the Chromebook.

The 2023-24 school year marks Ms. Burke's first year in the district, and she's making a positive impact on how students are becoming involved with Spanish culture and understanding it from different perspectives.

Today, we provide you with her Q&A to provide her thought process in connecting with students and sharing her passion for Spanish culture.

How does your teaching approach connect with students?

I am currently developing my own curriculum based on the needs of my students and their current abilities. I also try to incorporate relevant social topics / current music trends to break through barriers and make learning a more enjoyable experience.  

What areas of Spanish culture are you highlighting in the classroom?

My students have recently learned about Latin dance–bachata and salsa. I bring in traditional Latin candies as prizes for games. I aim to give my students a well-rounded experience in the classroom, or as close to authentic as possible, without actually visiting the countries!  

You've recently become a U.S. citizen. How has that process shaped your teaching pathway?

The action of becoming a citizen hasn't affected my teaching overall. However, being an English Second Language learner, I understand the kids' roadblocks to learning a language. Through my own experiences, as well as my education, I can try to better teach them language in ways that they will not only remember for tests and scores but, hopefully, for life.

What would you like to accomplish teaching Spanish at BKW?
My personal goal is to create a curriculum that can be modified to stay relevant to the ever-changing society that we live in. I'd also like to improve as a teacher to effectively teach my students and someday apply that first-hand experience to further my own education toward a PhD.