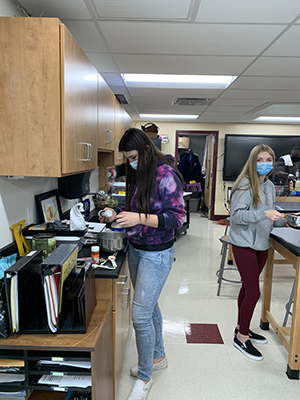 A team effort by BKW's Animal Science and Introduction to Business students won 2nd place in the New York Beef Council's fourth annual Top Beef Contest, high school division, for their original recipe, Le Boeuf y Champignon Crêpe, also known as Beef Tip Crêpe.
"During this cross-curricular collaboration, we were challenged to design an ethnic beef street food and to market our product," said Michaela Kehrer, BKW Secondary School teacher and FFA advisor. "Our Animal Science and Introduction to Business classes had to develop a recipe, determine the price points and health benefits, and market the final product.
"A special thank you goes out to BKW Food Services director and chef Lateef Clark for sharing his cooking experience and talents with our classes, BKW Physics teacher and Looking Up Farms owner Neil McConnelee for speaking to the Animal Science class about being a beef producer, and BKW librarian Beth Davis for assisting in the obtaining the resources needed to the recipe development," said Kehrer.
"Additionally, thank you to BKW Introduction to Business and Family & Consumer Sciences teacher Jill Daviero for recognizing the opportunity for our classes to work together and for her culinary knowledge."
"This was a super cool opportunity to be able to participate in the Top Beef Competition,"  said student Zoey Lounsbury. "To be able to see all of the collaboration between my class and the other class developing a product from start to finish was awesome.
"One the highlights was when Mr. Clark came in and cooked for the classes, to show us what the product would be and taste like. The first bite I took of the crêpe blew my mind."
"Congratulations for a job well done to the students who participated in this competition," said BKW Secondary School Principal Dr. Mark Pitterson. "They are definitely a force with whom to reckon." 
"Congratulations to all!" said BKW Superintendent of Schools Dr. Mundell. "That is an awesome team effort. Way to go!"
"New York Agriculture in the Classroom and the New York Beef Council would like to thank all of our schools who submitted entries in the fourth annual Top Cut Beef Contest," said Sarah Peavey, agricultural education program specialist with New York Agriculture in the Classroom, which is based at Cornell University.
"We were amazed by the enthusiastic response from teachers of all grade levels in registering and submitting an entry in the contest. Our panel of judges had a big job reviewing each of your entries and were very hungry after seeing each of your mouth-watering recipes."