On Friday, March 24, the BKW community will host a friendly exhibition basketball game to help raise money for district athletic programs and help support the BKW Booster Club. You can view this year's event flyer here.
When, where, and how can I catch this fun-filled event? Event details are listed below: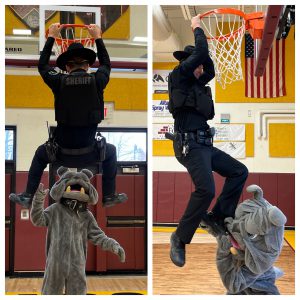 DATE: March 24, 2023
TIME: Doors Open at 6:00 p.m.
Tipoff at 7:00 p.m.
LOCATION: BKW High School
COST: $1 for BKW Students
$3 for Non-BKW Students
$5 for families
This year's event will feature raffles and basketball shooting contests, along with a concession stand. Donations are appreciated.
Please reach out with any questions to BKW Athletic Director Mr. Galvin at tom.galvin@bkwschools.org or Albany County Sheriff Deputy Hughes at chris.hughes@bkwschools.org.
We hope to see you there!!