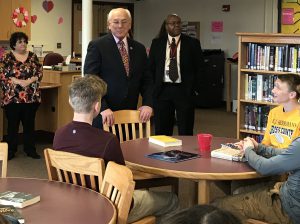 Congressman Paul Tonko stopped by Berne-Knox-Westerlo this month to deliver books from the Library of Congress Surplus Books program. At all times the Library of Congress has thousands of books available for donation to eligible groups. These surplus books are not needed for the Library's own use, and so members of Congress may donate them to schools, libraries, community centers and other such organizations in their district.
Congressman Tonko's office contacted the district last year about the Library of Congress Surplus Books program. The district requested donations of science, biography, poetry, and folklore books. Congressman Tonko presented the district with 31 books worth almost $800 and spoke to two classes for almost an hour.
Thank you Congressman Tonko and the Library of Congress for the generous donation!